Worry Isn't the Only Thing that is Real
Understanding who you are as an investor is an important step to being a better investor. In the first part of a two-part series, we dive deeper into the two common types of "worriers", common signs and struggles, and some concepts to get them to a better place.
FIVE THINGS YOU SHOULD KNOW
Equity Markets – were mixed this week with U.S. stocks (S&P 500) up 0.34% while international stocks (EAFE) fell -1.27%.


Fixed Income Markets – were mixed with investment grade bonds (AGG) up 0.11% while high yield bonds (JNK) fell -0.42%.

Economic Plan Passes House – The Democrats were able to push through Biden's $1.64 trillion economic plan without Republican support this week with a vote of 220-213. Many moderates were waiting for the Congressional Budget Office to release cost estimates on the plan prior to voting, with the CBO finding the plan the would increase the deficit by $367 billion over the next decade. While this number was low enough to satisfy Democratic members on the fence, it does contradict the President's claim that the bill will pay for itself, ammunition opposition will surely reference when the bill faces a Senate vote.

Oil Remains Volatile – Biden's focus on lowering gasoline prices remained in the spotlight this week with the President urging major oil-consuming nations to begin utilizing their crude reserves, with China shortly after announcing their plan to begin tapping stockpiles. Biden has also requested that the Federal Trade Commission begin probing possible illegal conduct and anti-consumer behavior from oil providers, with some lawmakers suggesting new legislation that would subject OPEC to antitrust laws.

Key Insight – [VIDEO] Understanding who you are as an investor is an important step to being a better investor. In the first part of a two-part series, we dive deeper into the two common types of "worriers", common signs and struggles, and some concepts to get them to a better place. [ARTICLE] Markets and investors almost always have something to worry about, thus the struggle for the types of investors discussed in this week's video. This week we walk you down an illustrated path that paints a much more positive picture.


INSIGHTS for INVESTORS
The Worry is Real …


In the video above we walk through the two most common types of worriers summed up as either a) perma-pessimists or b) the arbitrarily anxious. One of the hardest parts about dealing with worry is that there are usually good reasons to worry. Even in "good times" there are issues or potential issues, and the inevitably of struggle in some area of life (or markets) is a fact.
However, it's equally true that there are almost always positives to take heart from or have gratitude for. And similarly, while future struggles are an inevitable fact, so is the resilience of people, economies and the markets that reflect them.


… So Are the Reasons to be Hopeful


In a world where equity markets post POSITIVE annual returns 75% of the time, should your bigger concern be being too pessimistic or too optimistic?
A bit of a trick question, as having a plan to survive the 25% of years where markets decline, along with the many intra-year corrections, is vitally important to one's financial success. However, if one considers the long-term impact of inflation (even in more normal times) coupled with the over-riding resiliency of markets there's a good argument that perma-bears are likely to struggle far more than more optimistic investors – without saying anything about the stress they must carry along with such a mindset.
Some important facts to remember:
Two-thirds of investors value money most for the security it can provide.


Most people hate losing money more than they enjoy making it.


The same part of your brain trigged by mortal danger is triggered by losing money.


There is truth that potential issues for markets almost always exist and will manifest at some point in fearful fashion.
Some other important things to keep in mind:


Solid plans can provide a lot of security for you and your family.


Money isn't truly lost in most cases until you are forced to sell, and the right combination of a plan and portfolio can help buy you that time with proper cash flow.


Odds of making counter-productive/emotionally-induced decisions are diminished when one relies on a partner/plan instead of feelings during a trying time.


It's also true that there are almost always positive catalysts for the market, and that over time the market's resiliency has eventually overcome even the darkest of times.
With the above in mind, especially point #4 just above, we wanted to share some positive points and especially charts/graphs that help show that despite some very real challenges there are also some equally real catalysts supporting markets today.
The Most Important Reasons to be Positive Today
Let me begin by highlighting two key items before we jump into the charts. We shared the timeless quote from Benjamin Graham stating … " in the long-run, the market is a weighing machine." So, what does it weigh? Earnings, and one way you improve earnings is improving operating margins.
Fortunately for investors, things are looking good on both fronts as we move into 2022, with projected earnings now at $230 a share, and operating margins forecast to come in at 13%+ in 2022 vs. 11% in 2019
Five Other Positives in Pictures
1. Overall Financial Conditions Remain VERY Accommodative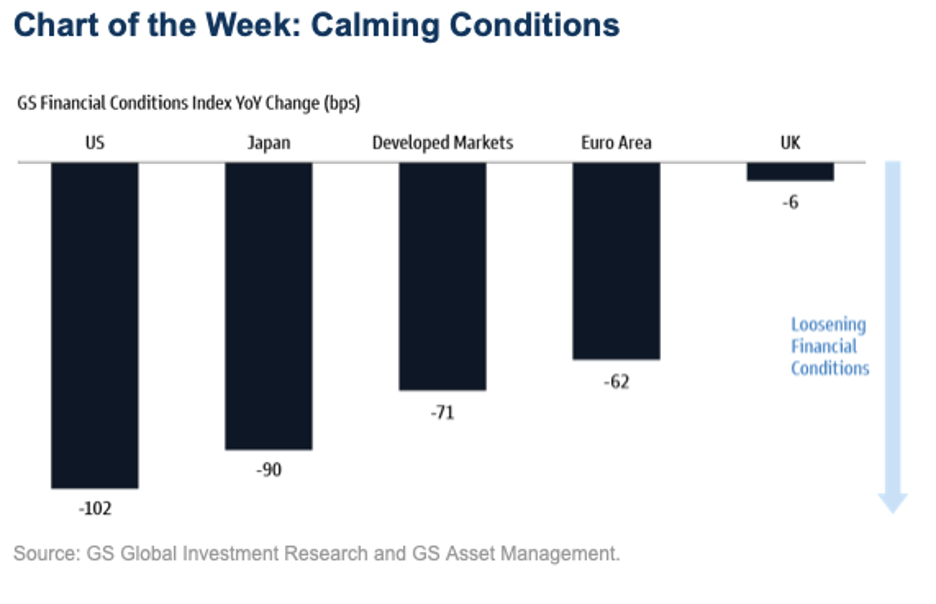 Major developed markets (DMs) have seen easy financial conditions, with the US notably hitting a record low. We expect continuing loose financial conditions for DMs to provide a positive impulse to overall GDP growth in 2022, partially offsetting a monetary policy tightening cycle and fiscal policy drag.
2. Labor Market Continues to Improve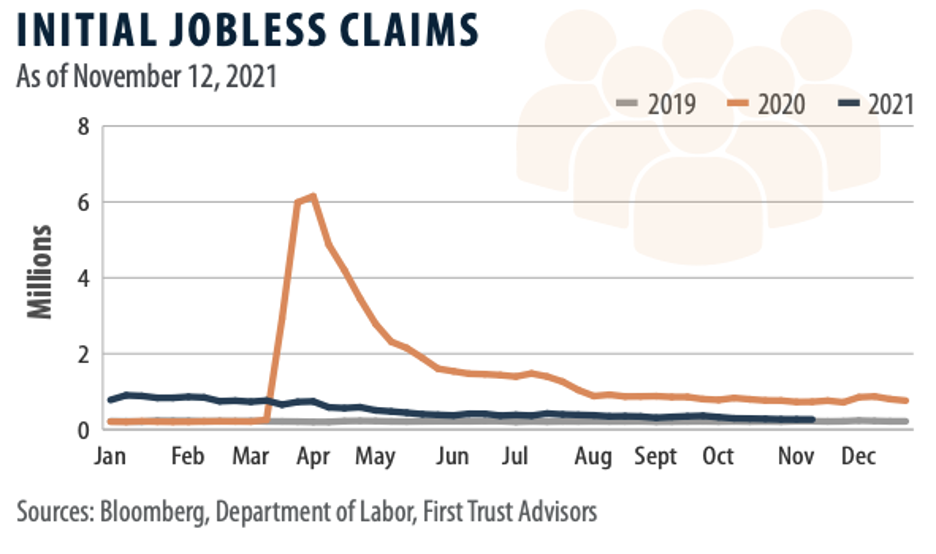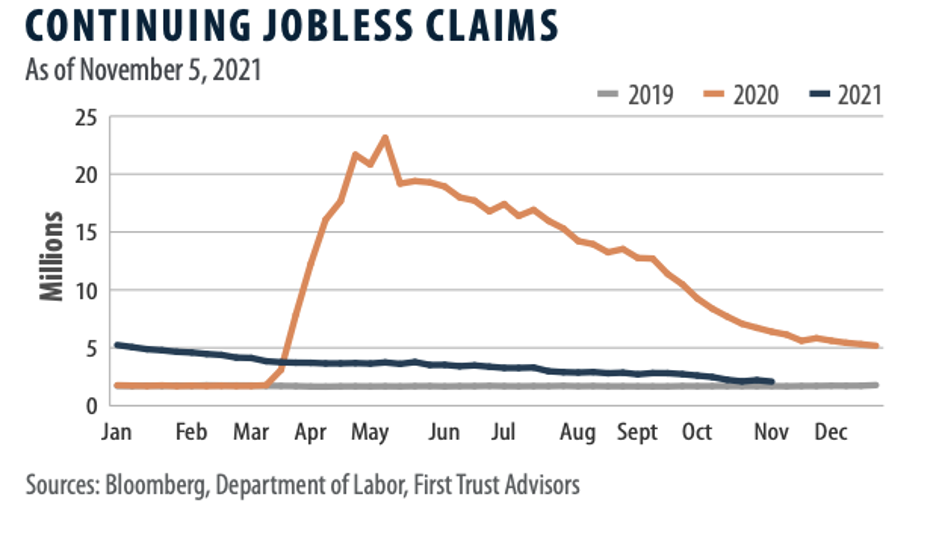 3. Semiconductor Sector (Important Leading Indicator) Continues to Strengthen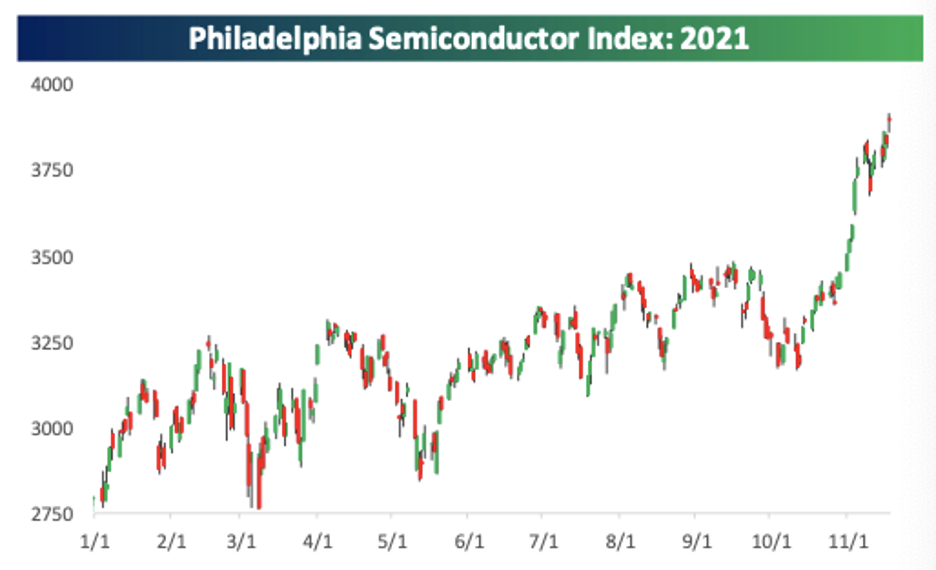 4. Money Supply Remains High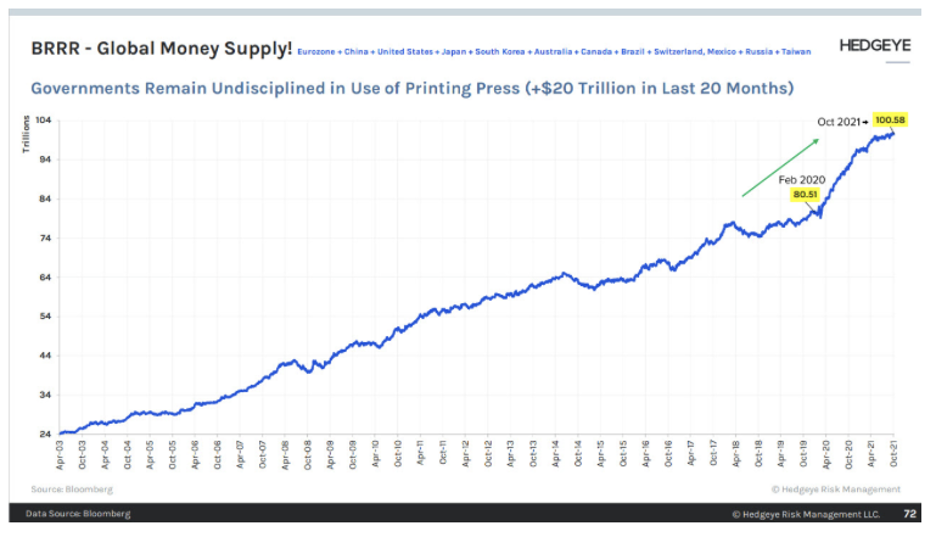 CEO of the Hedgeye Keith McCullough, has the quote, "The best way to combat inflation is to own it." So yes, inflation is a concern but far less of one if you own a diversified basket of risk assets that will rise with the tide. So, while fear often leads investors in a knee jerk fashion to old standby's such as cash and treasuries, that would be exactly the wrong move here.
5. The Opportunity Set is Broad


While we expect the U.S. to remain strong, it's decade of outperformance will likely be challenged sooner rather than later. More importantly, great companies can be found around the world with roughly two-thirds of the Global 600 outside the U.S.
Summary
Worry is common and reasons for concern are constant, but history is firmly on the side of those who prepare for struggle while simultaneously remaining conscious of the world's history of resilience.
Have a wonderful weekend,
Tim and the team at TEN Capital