What's the Value in Working With an Advisor Anyway?
Whether you're an existing client or wondering how partnering with TEN can improve your life, we want to spell out what makes an effective and valuable advisor and how our firm approach is built on transparency, market experience and empathy for you and your family.
FIVE THINGS YOU SHOULD KNOW
Equity Markets – were lower this week with U.S. stocks (S&P 500) down -2.17% while international stocks (EAFE) fell -2.61%.


Fixed Income Markets – were lower with investment grade bonds (AGG) down -0.35% while high yield bonds (JNK) fell -0.58%.


Government Funded… For Now – Both houses of Congress passed a 9-week stopgap funding bill that will kick the deadline to reach a deal out to Dec. 3rd. While this temporarily averts a government shutdown, the legislation itself was stripped of language that would suspend the impending debt ceiling as a result of Republican opposition. The bill will allocate $28.6 billion for states recovering from hurricanes and $6.3 billion to resettle refugees from the war in Afghanistan.

Debt Ceiling Debate – Equally polarizing this week has been the debate on whether to raise/suspend the government debt ceiling. Treasury Secretary Yellen urged Congress this week to raise the limit as soon as possible and stated that her department will effectively run out of cash by Oct. 18th. While Democrats are able to agree to a hike with a simple majority through a budget reconciliation bill, they have so far chosen to seek out a bi-partisan deal, an outlook that looks unlikely.

Key Insight – [VIDEO] & [ARTICLE] Whether you're an existing client or wondering how partnering with TEN can improve your life, we want to spell out what makes an effective and valuable advisor and how our firm approach is built on transparency, market experience and empathy for you and your family.

INSIGHTS for INVESTORS
I know, I know this could appear to be a very self-serving piece. Sure, we are proud of the work we do, but the true spirit of this piece is to share the thoughts of objective third parties and actual statistics to hopefully help better answer the oft-asked question of why should I hire an advisor.
Maybe you are already a client, and this commentary serves to help give you peace that you've made a good decision, but perhaps you are not a client yet and wonder how working with us could help improve things for you and your family – either way, I hope this gives you some good food for thought.
Before we begin, I want to make sure to address the "theme" guiding this discussion – partnership. Tiger Woods has a swing coach, Tom Brady has a throwing coach, and both are about as good as it gets at those respective crafts.
Why?
It isn't because their coaches are necessarily better at what they do than they are, it's ultimately about the myriad of benefits and insights a third-party partner can bring to help them maximize their craft instead of just make it.
It is that last thought that permeates the culture and focus of our efforts here at TEN. We seek to serve as partners to help clients not just "make it" but live their best possible life.
1. The Calculated Benefit of a Good Advisor
There are plenty of advisors out there that quite frankly aren't very good. Perhaps it's experience, the limitations of their firm, embedded conflicts of interest, or their ego. At any rate, every prospective client would do well to really dig into the capabilities, focus, and spirit of the firm they work with. Are they fee-based or commission-based? Local or national? Do they talk more about their strengths or how they can help serve you? Does it seem to be about their process and partners or perceived genius? Is the firm named for themselves or for something they stand for?
Once you do find a client-focused, planning, and process-oriented advisor free from conflicts of interest, you are talking to the type of advisor that Vanguard highlighted in their study.
Yes, Vanguard. While often thought of as the "go it alone" solution the reality is they authored one of the best studies done on the value of a good advisor. Their finding? A good advisor can help improve an investor's returns by about 3% on average. (Article link below)
Not because they can time market movements, but because they bring to the table the true art of being an advisor around things like asset allocation, rebalancing, tax management, and behavioral coaching through tough life and market events.
How does this apply to TEN?
Asset Allocation – from day one we've focused on our asset allocation models exclusively and have avoided wasted time trying to pretend we can out stock pick the market (many others still try).
Focus on Planning – If you look at the list of items they cover, you'll see rebalancing, tax management (e.g. maximizing ROTH conversions or tax-saving retirement strategies like cash balance plans), and withdrawal strategies. This is why we spend so much time planning with our clients to learn as much as we can about where they are today and where they hope to be tomorrow and invest in our team and tech stack to deliver.
Behavioral Coaching – We'll discuss this one in depth below, and it can be a sensitive subject, but it shouldn't be. It's a physiological fact people respond to volatility and loss in the same way they do to mortal danger. Having an experienced partner to lean on is key to maintaining one's discipline – which goes for us too. It's why we lean on so many external partners, as well as our internal teams and committees. It's nothing to be ashamed about, it's something to be planned for.
Vanguard Study - https://www.vanguard.com/pdf/ISGQVAA.pdf
2. Conflicts of Interest
What about going it alone or just using a robo to save money? Seems like a reasonable solution, and to be honest, probably a better one than using most of the "salesman" out there masquerading as advisors and brokers. You'll come find, this still is not ideal.
Why?
A. The Internal Conflict of Interest

I can't tell you how many prospects, most typically men, struggle with the question of why pay and partner with an advisor. It usually leads to some great conversations, and almost invariably once some trust is built up they'll admit to their struggles in going it alone and the duality of being too risky and too conservative with their allocation, the inevitable mistakes, and how it all adds up to some paralyzed decision making.
You see, one way to look at conflicts of interest is the struggle of being solely accountable for one's results. Having to explain to your spouse, or hide, what you've done gets to be pretty tough for most people. Being able to talk through things with someone and rely on an established and disciplined process can help unstick you and avoid less than ideal allocation – both of which come with HIGH COSTS.
B. The Subtle, but Costly, Conflicts of Interest
Another example of a rather boring, but significant conflict of interest making news is Schwab, and some other robo-based solutions being sued due to their high cash allocations. Sure, a robo may have a low price tag, but what about the cost of uninvested cash over time? You see, most custodians make a good check off money from their cash accounts creating a genuine conflict of interest – vis a vis their clients (https://www.barrons.com/advisor/articles/charles-schwab-lawsuit-robo-advisor-cash-allocation-51631654928).
At TEN, our fee is our fee. No investment allocation can change that. Therefore, our agenda with any investment advice we give comes down to one thing – does this help our clients get where they want to go. Our not-so-hidden agenda is happy clients that stay clients for life and may pay us the honor of introducing a loved one from time to time so they get the same great care.

3. Experience
Any advisor who tries to sell you on working with them because their "experience or process" can predict markets (or even hints of that) is worth running from, but experience does play some key roles in helping clients reach their goals.
In an article entitled In Defence of the Financial Advisor (link below), the author states, "Perhaps most importantly is the plain fact that investment professionals have, on average, considerably more experience than the ordinary retail investor. Not only does this bode well in terms of having the ability to more accurately anticipate future market scenarios—and, in turn, likely future returns—but it also means that the professional has the skills and expertise required not to be swayed by non-relevant, non-market related factors vis-à-vis the less experienced investor. Such influences could include the recommendations of peers, friends, and family or perhaps tips provided by market analysts and "gurus" who may not necessarily have the same investment goals when making recommendations."
Again, if by anticipating future market scenarios he is referring to market timing I would disagree, but to the extent he is referring to things like the current (awful) risk/return set up of bonds and leaving that space, I would agree.
In general, experience does matter especially if one is a true student of their craft and understands how to learn from history to better their clients' future (e.g. see our Commentaries from August 6th and August 13th.)
https://www.thewealthadvisor.com/article/defence-financial-advisor?mkt_tok=NDQ2LVVIUy0wMTMAAAF_iUccS4RcgkcVf-dQuaxAiyia9ECA-37mhzukE72F3qd0rTon_AHcXw5PAlj6o4zeo_jhIdxVKoyse5-lRHLOR9bPVe-QQCRZeXGxXh9VRMJu
A current example is our calm amid the existing media panic around a few percentage points decline in the stock market. Of course, there will be a correction at some point, but short-term volatility and political dysfunction are NOT reasons to change your portfolios (for one thing they are ever-present even if the media's attention on them isn't).
We are not watching, nor advising, based on such talking point non-sense, but rather we are watching much better predictors that are too wonky to make the news or your friend's cocktail party conversation.
Here are three examples of experience helping keep clients focused on what really matters.
1. Credit spreads
I know exciting right. And yet, if the odds were high of a systemic risk sell-off event, credit spreads would not be so steady (see chart below from Bespoke). Furthermore, the high-yield bond (aka junk bonds) index would not have only declined 0.60% from its all-time high. Such collective conditions hardly indicate that smart money is worried about an economic collapse.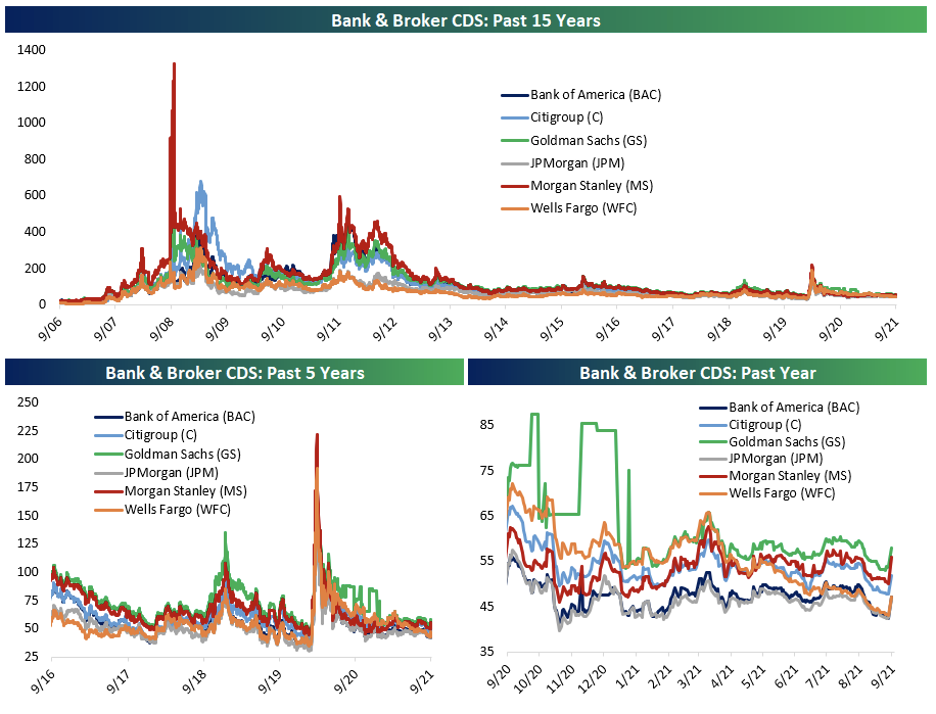 2. Corporate Profits Continue to Recover
Famed investor Benjamin Graham once famously, and accurately stated "In the short run, the market is a voting machine but in the long run, it is a weighing machine." Despite everyone's efforts to explain every move of the stock market, the reality is no one really knows. Plenty of studies have been done to show that even in hindsight, very few market moves can be explained.
What does eventually win out over time is the weighing machine aspect of markets, and what they weigh is almost exclusively profits.
So where are we today?
Unbelievably, corporate profits among S&P 500 companies are higher than they were pre-COVID. As highlighted by AMG Funds "earnings are up 11.7% from the similar period in 2019 before the onset of COVID-19. The recovery has been reasonably broad, with roughly two-thirds of individual S&P 500 companies reporting higher profits over the past four quarters relative to the similar period in 2019."
Moreover, things look set to improve significantly over the intermediate-term as the chart below shows.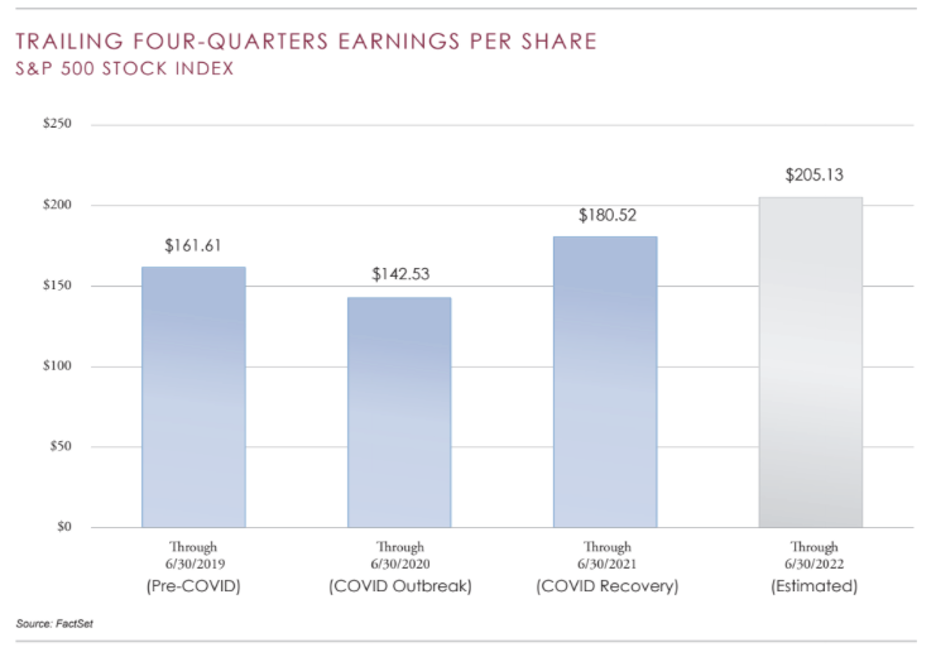 Yes, politics (especially these days) can create scary headlines and unnecessary confusion, but keep your focus on what really matters – having a solid plan and focusing on those things the market will ultimately weigh.
3. Global Dividends
Sequence of Returns Risk is a very real issue, especially this far into a bull market with bond yields this low (see https://www.forbes.com/advisor/retirement/sequence-of-returns-risk/). And yet, so many bad advisors and/or do-it-yourself-ers continue with their individual stock and bond and/or ETF portfolios focused on capital appreciation alone and are wholly unprepared for what we believe is inevitable at some point before long.
One way to address this issue? Cash Flow. We have several strategies to address this but one way to do so, as well as gauge corporate health, is to look to dividends.
On this front, there is some good news, as summarized by First Trust in the edited data below and chart.
S&P 500 Index companies paid out $123.38 billion in cash dividends in Q2'21 (preliminary data).


It marked the 19th consecutive quarter in which cash dividend distributions exceeded $100.00 billion. Over the past 51 quarters through Q2'21, the average quarterly dividend payout was $88.59 billion.


The S&P 500 Index's estimated annual dividend payouts for 2021 and 2022 were $60.65 per share and $65.27 per share, respectively, as of 9/27/21, up from $58.95 per share distribution in 2020, according to Bloomberg.


While the S&P 500 Index dividend payout is trending higher, its dividend yield stood at just 1.33% as of 9/27/21, according to Bloomberg. It closed in 2018 at 2.15%. Since 2018, dividend increases have not kept pace with rising stock prices.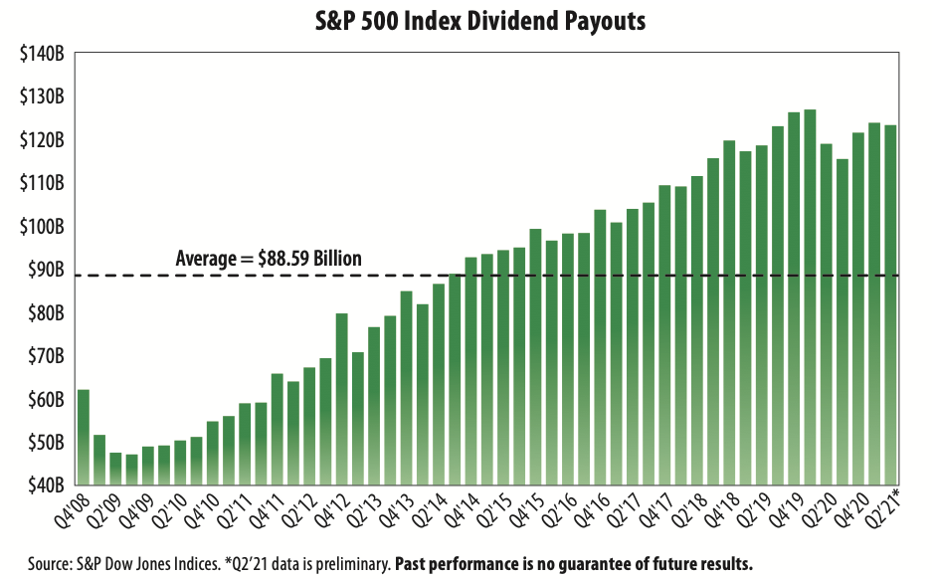 4. Back to Behavioral Finance & Hard Truths
A. MIT Study
It's just a reality of life for most of us, that certain things, people, or moments in time can make us emotional to the point of making bad decisions – whether that's a comment we'd like back or an action we wish we hadn't done in hindsight.
Just this week MIT released a study they did looking at the demographics of which investors tend to panic sell during market volatility. The Wealth Advisor shared their findings that, "Investors who are male, over the age of 45, married or consider themselves as having "excellent investment experience" are more likely to "freak out" and dump their portfolio during a downturn, according to a paper published last month that analyzed more than 600,000 brokerage accounts."
Should you hire us because we are immune to such feelings or temptations? No.
You should hire us because we recognize that anyone can fall prey to such mistakes and we have painstakingly built a process and a network of partners to avoid them. Another solid check on emotionally based decisions is that our decisions are VERY public. Unlike many people that have admitted to me how they panicked after virtually every Presidential election, the Christmas 2018 meltdown, or the COVID crash in the privacy of their own home or office, if we choose to run a trade, thousands of people are instantly notified of our decision and a record is established that we'll answer to for years. Just one more reason we proceed only after engaging in a disciplined process after serious internal and external discussion with our partners.
B. Cognitive Decline and Death
It's not a pleasant conversation, but it is a reality of life even for the most competent and healthy of people – mortality is inevitable.
Studies have been done which show two-thirds of Americans over 70 have begun to experience some form of cognitive impairment
(https://www.sciencedirect.com/science/article/pii/S2352827319304549). And sadly, we see this play out quite often in the lives of our clients. We've been there to help prevent bad decisions from happening, and we've had to step into situations where it had been discovered that an impairment existed and had led to some poor financial decisions or others trying to take advantage of the person in decline.
Death is another reality which must be planned for. I can tell you having held hundreds of our Cornerstone Conversations with couples that one of the biggest goals for the non-CFO spouse is addressing their fear of what happens to them and their finances when the CFO spouse passes. Addressing this issue by engaging a trusted partner not only saves them the difficulty when you do pass, but it will also give them considerably more peace during the remaining days you have together – both are a real gift.
Summary
Our goal at TEN isn't to be anyone's "parent", we want to be your "partner." I completely understand how hard it can be to feel like you are losing control, but we'd encourage you to think about having added us to your team rather than relinquished control.
Furthermore, our process and ongoing client experience from events to these weekly commentaries are all here to continually build trust and earn the right to be your partner.
It could be anything from helping with logistics of allocation or tax mitigation, avoiding conflicts of interest that can lead to paralysis by analysis or unnecessary costs, the experience to keep you focused on what matters, to simply being there for your family during life's inevitable struggles – however we can help you, we are here to serve as that trusted partner.
Have a wonderful weekend,
Tim and the team at TEN Capital