What You Focus On, Is What You'll Get
In this week's messages Tim encourages investors to focus on what they hope to manifest in their future and specifically, in their portfolios. One's mindset is key to persevering through tough markets, and he shares some historic facts around sentiment and volatility that will help keep you on track.
FIVE THINGS YOU SHOULD KNOW
Equity Markets – were lower this week with U.S. stocks (S&P 500) down -2.79% while international stocks (EAFE) fell -0.55%.


Fixed Income Markets – were lower with investment grade bonds (AGG) down -1.71% while high yield bonds (JNK) fell -2.02%.


Sanctions Continue – this week saw the U.S. House of Representatives approve legislation barring imports of Russian oil, putting further pressure on the global supply chain, and spiking the price of oil. The Biden administration is also calling on congress to end formal trade relations with Russia, which would allow the U.S. to raise tariffs on imports and puts Russia in the same trading category as North Korea and Cuba.

Shutdown Avoided – a full year $1.5 trillion federal funding bill passed the Senate this week with a vote of 68 to 31, avoiding a government shutdown and providing domestic agencies with a 6.7% boost. The bill also approved $13.6 billion to be allocated for Ukraine war relief in the form of humanitarian and security aid. Other notable additions included a 2.7% pay raise for military members, a 10% increase to Energy department climate-related initiatives, and the full funding of Biden's infrastructure law.


Key Insight – [VIDEO & ARTICLE] In this week's messages Tim encourages investors to focus on what they hope to manifest in their future and specifically, in their portfolios. One's mindset is key to persevering through tough markets, and he shares some historic facts around sentiment and volatility that will help keep you on track.

INSIGHTS for INVESTORS

Intro

Most investors can recite the old adage, "buy low, sell high", but very few can actually do it. The reason, in my opinion, is most investors believe that to put that sentiment into action requires one to have some special type of foresight, when in reality it's almost all about one's mindset.
There are very few things in life you can do successfully when you are one or more of the following:
Investing is no different – but how does one stay positive when things are scary, and markets are volatile?

This isn't about being naïve. It is about avoiding the adoption of a mindset that regularly views things in the worst light possible – and in so doing only increases the odds that you manifest exactly what you are hoping to avoid …
more negative outcomes
.
Being critical, doesn't mean you are critically thinking.

For example, some investors always frame their accounts in whatever way is most negative from arbitrary timeframes to singling out certain positions. The result is they get negative to the point of sometimes believing they are "jinxed" and begin to engage in things like panic selling or giving up entirely on the concept of investing and sitting in cash.
To help you with your mindsets and frameworks, because it's important for all of us to actively engage in activities that help keep us positive during times of market volatility, we are going to examine a) current sentiment, b) what history tells us about periods of volatility and c) share some positive facts that you likely aren't hearing on the news.
People are Afraid

Markets go up and people assume all is right with the world and "buy more stocks". Then, things go down for a while and people panic and sell even though they know, and history has shown, that such behavior is the exact opposite path one should take.
Where are people today? They are afraid. Just look at the next few charts.
The first is CNN's Fear and Greed index which currently sits around 15, i.e., Extreme Fear.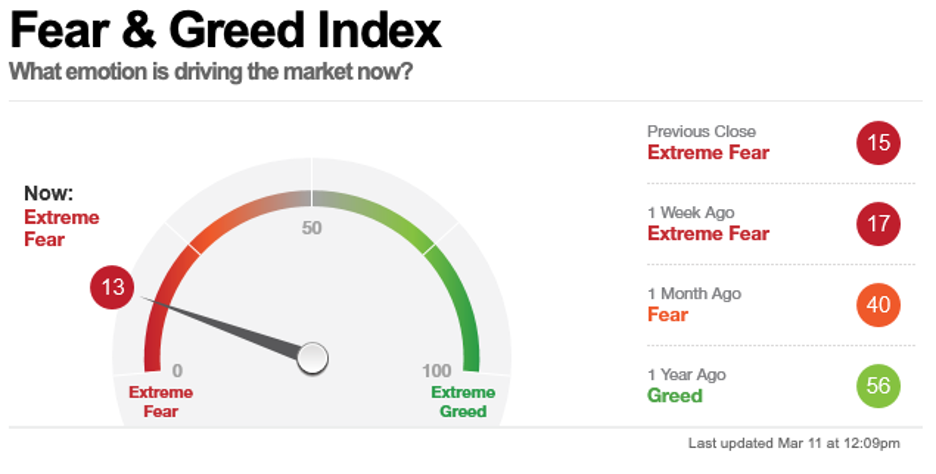 The next two charts show current sentiment from actual investment advisors, which as you can see, shows that most advisors aren't any better at checking their emotions than any other investors. This is part of the reason our industry has reputational/value issues and to combat such issues, we have built an effective structure at TEN with internal and external partners.
The second chart below, courtesy of Callum Thomas, reflects that the National Association of Active Investment Managers exposure survey has dropped close to pandemic panic levels. As you can see/figure out from the chart, just like other investors that can't check their emotions, de-grossing/selling at such levels has almost always proven to be the wrong course of action with each such period reflecting a low point for markets before a rebound.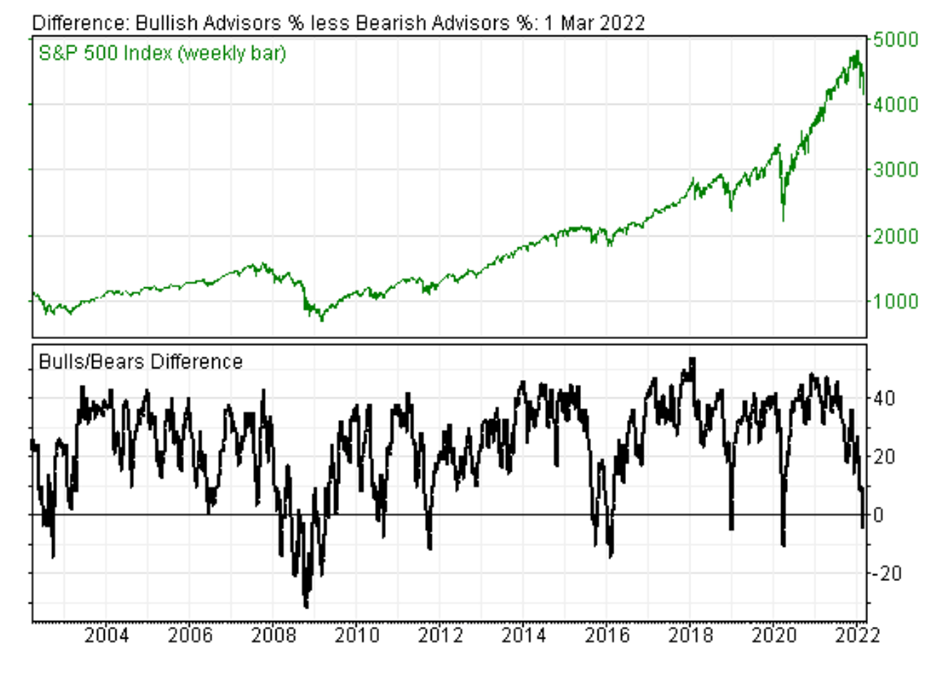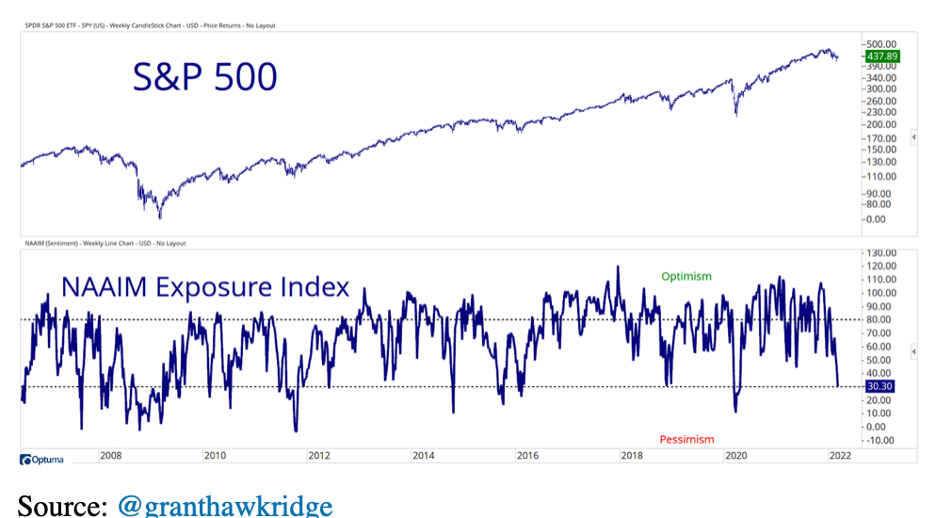 What Does Heightened Volatility Really Mean?
Based on how much people react to volatility (captured in the VIX index), (see above charts), most investors apparently believe an uptick in volatility is the signal for impending doom. The reality is something quite different.
Bespoke noted, "While increases in the VIX are often accompanied by lower equity prices, forward returns following seven straight closes above 30 have been positive the vast majority of the time. While the median one-week return following these prior streaks has been a decline of 0.5% with gains just half of the time, moving forward from there, performance steadily improved. The S&P 500's median return one month later was a gain of 3.0% with positive returns nearly 70% of the time. Then, three, six, and twelve months later, the S&P 500 was higher at least 80% of the time with median gains of 7.8%, 17.3%, and 25.9%, respectively … This chart further illustrates how while the frequency of positive returns in the short term was mixed, once three months had passed since the 7th straight close above 30, the S&P 500 was consistently higher 80% of the time."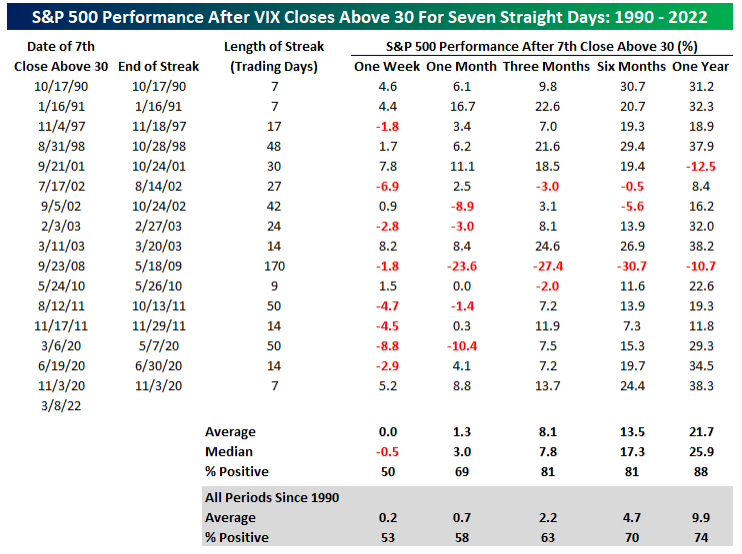 Until the VIX index can move below 25, the whipsaw in markets is likely to continue – both up and down. What the above history/info really reflects is when it does drop and the market rips to the upside you'll be left behind in a hurry.
Burning energy and emotion fighting or worrying about volatility will only tire you out and likely lead to bad decisions. It's best to accept it as the normal part of markets/investing that it is and keep in mind the above perspective/facts to help you remember that such periods are almost always temporary and far more of an opportunity than a threat.
Some Other "Positives" to Put Your Focus On
The talking point that everyone is throwing around these days is inflation. The fact that most seem to miss is that inflation is a "rate of change" metric and not about absolutes. As such, it is almost a mathematical certainty that regardless of how many interest rate hikes the Fed implements this year, inflation is likely peaking and will be abating over the rest of the year.
What about the conflict in Russia/Ukraine? While it may delay inflation moderation, it in all likelihood won't prevent it from happening.
As JP Morgan reminded investors this week, "When it comes to economic growth in the United States, the consumer is key, accounting for nearly 70% of gross domestic product (GDP). Following the initial pandemic shock in early 2020, the consumer came back with a vengeance, as stimulus checks and enhanced unemployment benefits stabilized balance sheets across the U.S. and spending on goods accelerated meaningfully. However, with food and energy prices rising, there is a risk that the composition of consumer spending will begin to shift. Looking at energy spending as a percentage of total spending, we are able to model a scenario in which crude oil prices rise to $120 per barrel. In aggregate, however, the model forecasts energy spending would increase to 5.0%, which is only slightly above the 2021 average of 4.8%."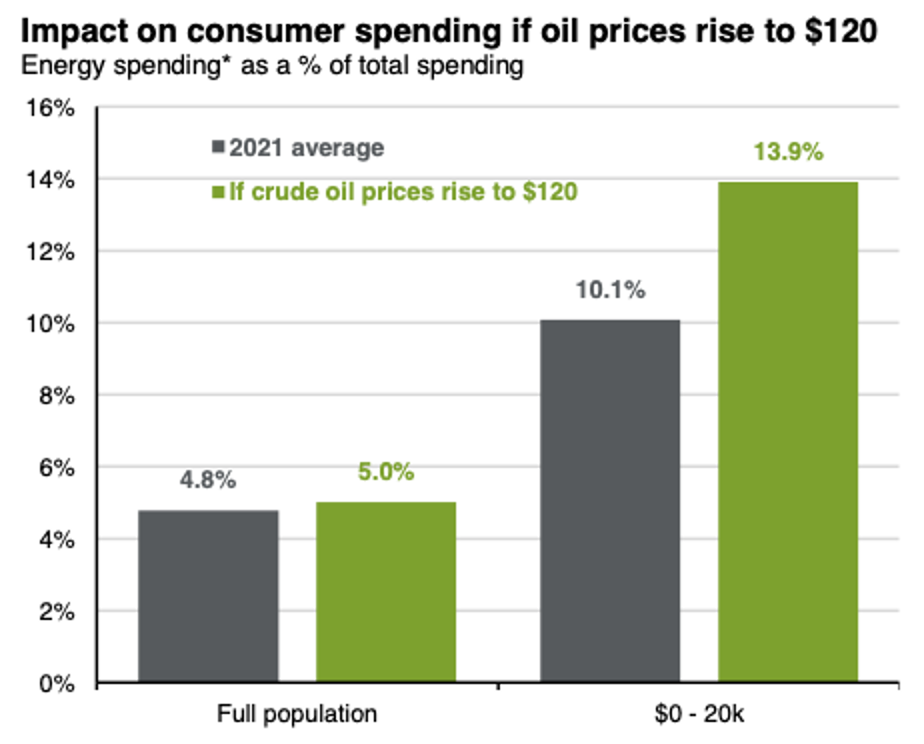 Furthermore, as Daniel Silver, an economist at JPMorgan wrote in a research piece from February 25th, "Households in the aggregate have accumulated about $2.6 trillion of 'excess saving' in recent years relative to the pre-pandemic trend, which all else equal could be enough to cover even a sustained 50% surge in oil and natural gas prices for many years to come."

Per a research note from Callum Thomas, "Bank of America economists estimate that consumers and corporations combined are sitting on about $19 trillion worth of cash, up 35% from 2019. This helps explain why consumer and business spending has been so resilient, even as sentiment has deteriorated. By the way, excess saving has given some Americans the option to not work during the pandemic. Without income, more and more of these folks will see their savings deplete if they haven't already. Fortunately, there is no shortage of job openings" with 1.9 openings for every 1 person without a job."
Lastly, is the continued resiliency of corporate earnings and estimates. As pointed out by Bespoke (see chart below as well) this week, "One of the unusual market dynamics during the current two-plus month correction has been the strength in EPS forecasts. As shown below, the estimated earnings of the S&P 500 over the next 12 months have continued to climb despite weeks of declines for stocks."
How can this be? Despite the senseless human tragedies unfolding, the market is telling you that the war will inevitably end and that the Fed will likely not get anywhere close to raising rates 7 times as the market was pricing in just a few weeks ago.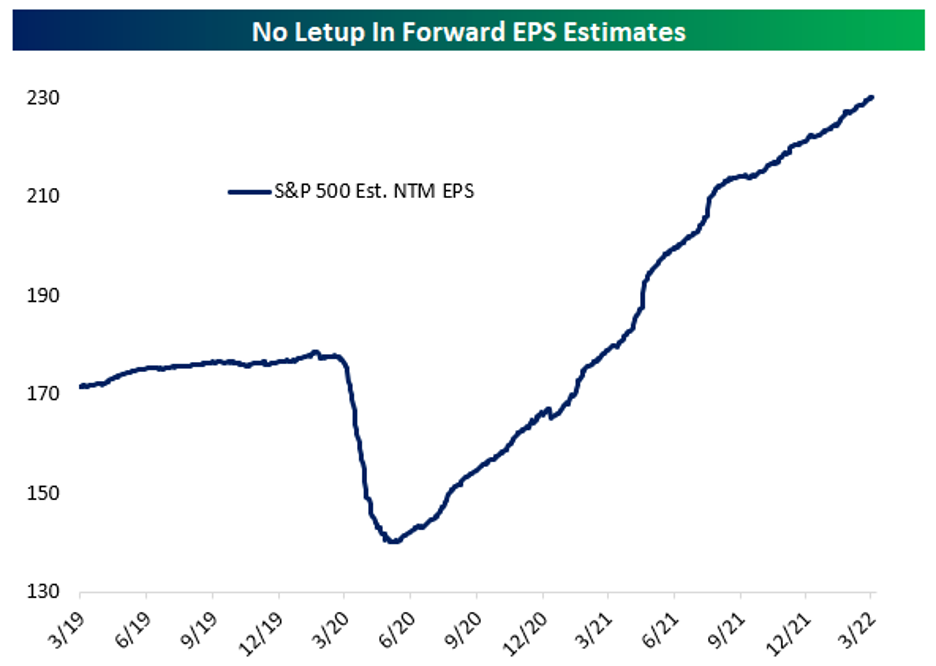 In Summary
You manifest what you focus on. If you want to allow yourself to get scared and panicked every time the markets come off an all-time high, you will forever be frustrated and fatigued as an investor – hardly a recipe for success let alone happiness.
Are stocks down 10% this year or still up 10% over the last year? The answer is both, which you choose to focus on will likely determine what the next 12 months hold for you.
If you can recall the facts around sentiment and volatility highlighted above, you'll be able to remember and take heart that when it comes to investing it usually is "darkest before the dawn." And in so doing, be able to focus not on the struggles of the present, but the progress of the past and the inevitable success of the future.
Have a wonderful weekend,
Tim and the team at TEN Capital