Understanding the Usefulness of Past Performance vs. Past Experience
We help explain this week's "panic" and put it in some context, while also explaining not only are most people's fears unnecessary but how some simple shifts could make a big difference.
We help explain this week's "panic" and put it in some context, while also explaining not only are most people's fears unnecessary but how some simple shifts could make a big difference.
FIVE THINGS YOU SHOULD KNOW
Equity Markets – rose in this choppy week of trading with U.S. stocks (S&P 500) up 0.82% while international stocks (EAFE) gained 0.89%


Fixed Income Markets – were mixed with investment grade bonds (AGG) down -0.75% while high yield bonds (JNK) rose 0.41%


Fed Update – This week chairman Powell reiterated their belief that inflation should continue to rise as the economy recovers, but that the recent spike is temporary. He also noted that without more durable inflation and a return to full employment the bank is unlikely to raise interest rates. As a result, bonds yields continued to rise on Thursday while stocks faltered.


Oil Spikes – Oil markets were surprised this week on the unexpected news that OPEC and its allies would not be increasing supply in April, a strong sign for the bulls. As a result, a barrel of WTI traded north of $65 while most of Wall Street's top banks hiked their forecasts for oil prices.


5. Key Insight – [VIDEO & ARTICLE] We help explain this week's "panic" and put it in some context, while also explaining not only are most people's fears unnecessary but how some simple shifts could make a big difference.
INSIGHTS for INVESTORS
"I do, however, think facts count; even if we hate them." – Ambassador Dodd (from In the Garden of Beasts by Erik Larson)
Why the Panic?
It is endlessly fascinating, or maybe frustrating, to watch the media and many investors ping pong between fears (of losing and then of missing out). This week, the world is ending crowd seemed to be out in force, but why?
Peak to trough the S&P 500 had only dropped around 5% from its mid-February ALL-TIME high. The likely reason, outside the press' desperate need to keep your attention for their own profit, is likely explained in large part due to the novice (yet vocal) investors who had been speculating in junk stocks or overpriced story stocks that were getting killed with things like ARK, Tesla and Dogecoin all down over 30%. Then again even more experienced investors had bought into the notion that big tech could never go down and deviated from a properly risk-adjusted diversified portfolio to then have the NASDAQ drop approximately 10%.
Even old-school types found themselves in unusual territory as their U.S. dominated 60/40 portfolio's saw all its components dropping in unison with high-quality bonds (AGG) down almost 2% alongside stocks from the equity market top.
We've warned investors about their conservative fixed income allocations since last July and since that time AGG has dropped almost 5% (almost 3% just this year). And with both inflation and growth likely to push higher, yields will almost undoubtedly be pulled along and this pain trade will continue. This isn't to say there aren't viable alternatives for investors, they just aren't likely to be introduced to you by old-school types stuck to what has worked.
But why is this economic set up punishing tech and previously high-flying growth stocks so much?
Tom Essaye, summarized the answer to this in a great piece this week stating, "Yesterday the S&P 500 dropped 1.31% thanks to another plunge in tech shares (Nasdaq down 2.70%), but the broad stock market did much better, as RSP, the equal weight S&P 500, was down just 0.15%. Point being, the impact of the decline in tech shares is substantial. To that point, yesterday, I was on with a Bloomberg reporter who asked why rising yields were hitting tech so hard, and I thought I'd share my answer, because it's the most important issue in stock markets right now.
The core issue here is economic growth. Due to economic re-openings, stimulus, and vaccine optimism, global investors are pricing in a huge jump in economic growth. That is why yields are rising. And, that expectation of better growth is causing the unwind of last year's flood into tech shares. During the pandemic, investors poured into tech. They did that for two reasons. First, the pandemic benefitted most tech companies. Second, tech earnings growth is much less sensitive to broad economic growth than other market sectors. So, in 2020, investors who wanted earnings growth had no-where to go but tech, courtesy of the pandemic. That, in turn, sent tech shares screaming higher to historically high valuations. But the looming reopening of the economy and acceleration in economic growth means investors can get exposure to earnings growth in sectors that aren't as richly valued as tech. In a growing economy, financials, industrials, energy, and materials sectors can enjoy earnings growth, and those sectors trade at a much lower valuation than tech. So, investors are leaving tech for these "cheaper" sectors and the 2020 flood into tech is now being reversed. The fact that yields are rising while tech is falling is because they are both reacting to the same thing: Expectations of better economic growth. And this rotation will continue until 1) Tech reaches a more historically typical valuation or 2) Growth prospects change. Bottom line, rising yields aren't causing tech to drop, it's just happening at the same time because growth expectations are surging.
Why is the Broad Market Sell-off Likely Temporary?
As people's get-rich quick dreams die another predictable death emotions are running high, that said for disciplined investors the facts are fine.
Important data to keep in mind
Global growth is projected to reach 7.4% next quarter based on high-frequency data points that point to a jump in demand driven by U.S. consumers as the reopening economy helps boost service industries


Eurozone confidence continues to rebound (most recent number was 93.4) to its highest level in a year, on data such as the region's manufacturing PMI hitting a three year high of 57.9.


US Jobs continue to stabilize (employers added 379,000 jobs in February) and follow historic patterns which would suggest job growth is likely to pick up in the coming months in conjunction with reopenings and economic acceleration.


Economic Leading Indicators sit at a reading 110.3, just 1.5% off its 2019 peak (see charts from Bespoke below).


US Consumer data is almost universally positive with income up 11.4% yoy, savings up 21%, and debt near 40-year lows at only 12% of total assets. This all adds up to recent confidence readings of 91.3, and there is still over $700 billion of the January stimulus checks that have not been spent yet, with another $1.5+ trillion likely on the way soon (see Household Balance Sheet graphic below).


S&P earnings revisions continue to move higher – in fact the increase in revisions this quarter is the 2nd highest since 2002 – bringing forward looking price to earnings ratios to a reasonable 22x.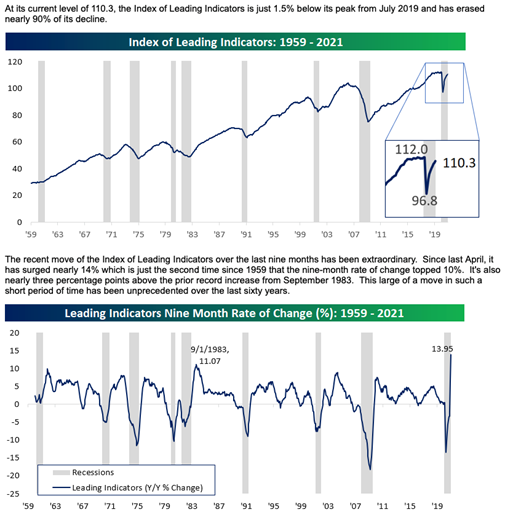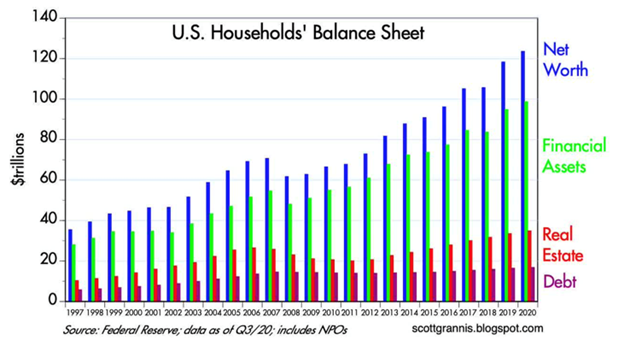 Yes, rates are rising and that usually isn't a positive, but there are two big reasons that rising rates unlikely to be the end of the stock market at this time. First, as we just highlighted the rise in yields is coming from economic growth, monetary and fiscal stimulus, and infrastructure spending all of which are positives for stocks. Second, as we saw with today's testimony, Fed Chair Powell seems committed to going to extraordinary measures to keep short term yields low and let inflation run more than would normally be the case which again is bullish for stocks.
And no, you can't just keep doing the same thing forever, no you can't just "buy anything" but all that means is you need to understand where the opportunities lie and have both the courage to perhaps do something new and patience and discipline to give it time.
Using History: Past Performance vs. Past Experience
When is history useful? And when is it not? I would answer that question by looking at two questions.
Are we discussing historic performance or historical experiences?


Is the conclusion it brings you to a difficult one for you or what you wanted to hear?
Chasing past performance for equity investors, or perhaps being trapped by it in the case of traditional bond buyers, is always a difficult challenge to overcome. Today's investors are getting hit with both at the same time and both high-flying story stocks and classic bond positions are being punished.
Where we've tried to help you based on past experience is to suggest you reduce your allocation to these overpriced assets regardless of how compelling the narratives are that ultimately amount to nothing more than the old cautionary tale of "this time it's different."
Here's the good news:
You don't have to pile into expensive tech stocks, story stocks, crypto and high-quality bonds to keep up with or beat inflation. You can use your common sense combined with some discipline and patience to invest in those parts of the market that may not have much to show in terms of performance the last two years, but very well may "the next two."


You can embrace change and realize that just because your approach may need to be different than your granddads, doesn't mean it's mission impossible. There are many alternatives to classic stocks and bonds that can help you achieve your goals, and we believe are much better positioned today.


Most corrections don't deepen. Historically, the likelihood of a drop doubling in depth (e.g. 5% to 10% or 10% to 20%) only happens 20% of the time. It always feels scary, but rarely is, and again with the right balanced portfolio is very survivable.
Of course, you need to be mindful of market trends, but before they lead you to take action just be aware of the key difference between "adjusting" and "a just doing anything." Changes as a result of informed discipline can be very beneficial, while emotional reactions are almost always counterproductive.
Have a great weekend,
Tim and the team at TEN Capital