The "Why(s)" Behind Our Commentary – 6th Anniversary
Tim discusses the genius of the commentary, and the five big reasons he and the team have kept in going for 313 consecutive weeks now.
FIVE THINGS YOU SHOULD KNOW
Equity Markets – were lower this week with U.S. stocks (S&P 500) down -0.60% while international stocks (EAFE) fell -2.42%.


Fixed Income Markets – were mixed with investment grade bonds (AGG) up 0.16% while high yield bonds (JNK) fell -0.17%.


Fed Breaks Consensus – This week's release of the July FOMC minutes showed that while most officials are in agreeance that bond purchases should begin tapering before year-end, some are split on how quickly that should occur. Boston Fed President Eric Rosengren, among others, stated his belief that tapering should begin as quickly as next month, while Minneapolis President Neel Kashkari wants to see a "few more" strong jobs reports before adjusting policy.


China Crackdown – Chinese companies plunged lower this week following the Country's announcement of a broad-based 5-year plan towards greater regulation. The plan states the government will "actively promote legislation" in areas such as national security, public health, education, biosecurity, anti-monopoly, and public health among others and intensify law enforcement and penalties on violators.

Key Insight – [VIDEO] Tim discusses the genius of the commentary, and the five big reasons he and the team have kept in going for 313 consecutive weeks now. [ARTICLE] A look at how little things ever really change for investors, as we look back to the challenges six years ago when the commentary began, and those still facing investors today.


INSIGHTS for INVESTORS
Our Mission with These Messages


We started putting out the Commentaries six years ago during a correction in August that largely centered around the economic slowdown in China, and fears of "global economic contagion" (the media always has such powerful fear-inducing phraseology). The market would go on to experience a typical correction that fall between mid-August and mid-October, reaching a bottom just below 1900 on the S&P 500, but it was hardly the Armageddon that so many called for. Side note – the market is up 250% from those levels as I write this today.
What kept us going for the last six years? Knowing our WHY'S for investing so much time in these commentaries, which as I discuss in depth in the video above, are spelled out in short below as:
Honoring the Opportunity – we wanted to show you with our Effort, Accountability and Consistency how much we value the chance to work with you.


Self-imposed discipline – we preach process and wanted to also create one that would hold us accountable and keep us keenly focused on our craft every week.


Build a Special Community - by sharing our collective journeys through good times and bad.


Walk the Talk – we didn't like most of the commentary out there, so we stepped up to share our own truths and insights.


Educate and Empathize – we certainly hope some of the information, facts and perspectives we share help you gain greater clarity and confidence around your finances. We also wanted a tool that you know you can count on to be there for you each week during tough markets as well.
In short, it's critical to us that you know you are never alone – we are in this together.
Today's news has its own tragedies and concerns from the heart-wrenching tragedy in Afghanistan, concerns on government debt, or COVID, to events just like the 2015 Chinese economic woes. The not so secret, secret, is there are ALWAYS reasons for concern as an investor.
The KEY truth to remember though?
Market volatility and/or the existence of potential negative market catalysts does not negate the resiliency of markets/humanity and equally ever-present inevitable positive catalysts any more than the pervasiveness of clouds at any given moment negates the existence of the sun.
The media, many brokerage houses and even your own psyche (we all fear loss to a counter-productive extent) are all working against you at any given time – but don't let them derail you!
Staying on course amongst all the storms and sirens is much more likely if you know, define and discuss your WHY'S just as we did ours to keep us on course and committed to these messages.
Thank you so much to all of you that take the time to engage with these, and all the wonderful feedback you give us.
That all said, where are things today? A few quick thoughts I wanted to share that I think are insightful.
A. Time to Watch the Yield Curve Again
Analyst Tom Essaye has summarized the current key factors with his "Four Pillars" underlying the market today: 1) Historic Fed Accommodation, 2) Historic Fiscal Stimulus, 3) Vaccine Optimism/Reopening, and 4) Economic Recovery.
In his most recent update on the status of these he flagged a couple things to watch for regarding two of the pillars, as well as the renewed importance of the classic "yield curve" signal that I think are worth your time.
He stated, "Two of our "Four Pillars" supporting the rally have be-come more important in recent weeks, warranting more attention from analysts and investors. They are historic Fed accommodation/stimulus, and economic recovery, and the increased attention has largely been the function of the rapid spread of the Delta variant (that has been weighing on the third pillar; vaccine/herd immunity optimism).


The reason those two pillars have become more important for markets is because inflation has already largely met the Fed's target levels to satisfy the inflation portion of the Fed's dual mandate, while labor market data has improved significantly based on the July jobs report. And as we see more progress on the economic recovery, specifically with regard to jobs, the Fed stimulus pillar will begin to potentially weaken as the FOMC will become increasingly likely to taper QE sooner than later, and ultimately move towards rate liftoff from the zero bound.


Now to be clear, the Fed tapering QE and eventually raising interest rates does not mean that the Fed is no longer accommodative and supportive of markets. But if they move too soon, that will obviously be a problem for markets as history has proven time and time again. One way to monitor this dynamic in real time is via the yield curve as we should begin to see the 10s-2s rebound off the 100- basis-points level, where it recently bottomed out, and revisit the 150 bps area if the economic recovery and Fed policy expectations all go "according to plan."

What is the best-case scenario to look for? The best thing we could see with the yield curve is the 10s-2s spread begin to rise back towards the 2021 highs from March-May, led by a rise in the 10-year yield (as op-posed to a declining 2 year) as that will suggest healthy growth in the economy (rising longer maturity yields) and a Fed that is still patient and not moving too quickly with removing QE (an anchored short end of the curve).
Looking at the chart of the 10s-2s, we have seen a break in the downtrend that has been in place since early summer, which is a step in the right direction. As the yield curve continues to steepen (as we expect and most investors should hope it does in the weeks/months ahead), we should see further outperformance in cyclical and value stocks and underperformance in mega-cap growth/tech names, a trend we have been advocating all year, but one that has unwound some this summer.
What if the curve doesn't steepen? If the curve doesn't steepen in the weeks and months ahead, that will be a problem for markets and suggest that the bond market (affectionately known as the "smart market") is not fore-casting a continued rebound in growth but rather a loss of eco-nomic momentum and a Fed that will still likely be forced to move forward with reducing accommodation by tapering QE and taking steps towards raising benchmark interest rates.

However, with inflation metrics still very elevated relative to recent history (underscored by yesterday morning's CPI print), the risk of stagflation remains very real if the economic recovery starts to lose momentum. And if that is the case, 10s-2s will tell us so, loud and clear, with the spread remaining pinned near 100 bps or even falling back into double digits and making new multi-month lows. If we see that, expect the reflation trade (value/ cyclicals) to get hit hard and defensive growth names (mega-cap tech) to relatively outperform."
B. About those Bond Yields?
Many investors, and sadly, more advisors, continue to cling to outdated allocation and positions whose risk/return potential looks quite dismal – of course, I am once again referring to an overallocation to Treasury's and/or investment grade corporate bonds with meaningful duration.
As commentator Lance Roberts pointed out, "10-year real yields are now trading at an all-time low as shown below in the Bloomberg graph. The real yield is calculated by subtracting the 10-year UST yield from the rate of expected inflation over the next ten years. At a real yield of negative 1.12%, investors will need to see the 10-year UST yield fall by about 15 bps. to approximately 1.10% to earn a 0% real return due to the gain in the price on the bond. This condition, in part, helps explain why investors are willing to pay outlandish valuations for equities despite poor expected returns."
C. Positive Catalysts
One continued positive, outside of still robust corporate earnings, is the strength of the US housing market. While many understandably are taken aback by the rising prices and still shutter at the memories from 2008, Goldman Sachs analysts believe any such fears are premature at best. They noted, "(g)lobal housing markets remained strong throughout the COVID-19 outbreak. In the US, historically low mortgage rates, persistent inventory shortage, and robust demand amplified by a shift to remote work all contributed to this housing strength. We think these conditions may extend through H2 2021 and keep the near-term probability of significant home price decline low." (see chart below)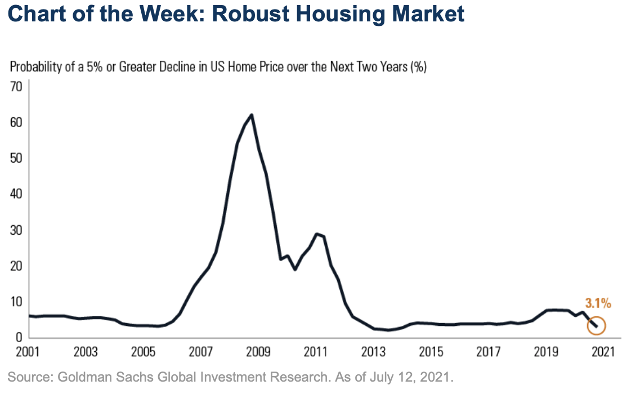 While episodic volatility, and a market correction from time to time are likely (and normal), the reality is with a robust employment and housing market the overall economy remains on solid footing for now.
In Closing
First, just a sincere heart-felt thank you for taking the time to read these with any regularity, as well as for so many of you who have partnered with us on you and your family's financial journey.
We hope each week when you see these messages, let alone read them, you see them as our perpetual efforts to earn our place as your trusted partner through hard work, consistency, and hopefully some valuable advice.
Here we are 6 years later, and just as like then there are concerns, fears and global unrest – but now, as then, we know we can get through it together.
Have a wonderful weekend,
Tim and team at TEN Capital