The Path to Great: Part II – The Steps to Finding Genuine Peace of Mind
Tim and Jake walk you through the steps they use to help clients define their highest priorities, the financial framework to achieve them and how they've seen this process change people's lives.
FIVE THINGS YOU SHOULD KNOW
Equity Markets – Fell globally this week with U.S. stocks (S&P 500) down 0.97% and international stocks (EAFE) down 1.56%.


Fixed Income Markets – Were mixed with investment grade bonds (AGG) up 0.19% while high yield bonds (JNK) fell modestly by 0.35%.


Spending Bill Progresses – This week Senate Democrats on the Budget Committee came to an agreement on a new $3.5 trillion spending bill that would include most of President Biden's economic agenda, a sizable drop from the previously suggested $6 trillion plan. If the bill were to get support from all 50 Democratic Senators (which could face challenges), it would be able to pass without Republican support.


Powell Admits Uneasiness – Federal Reserve Chairman Jerome Powell spoke in front of the Senate Banking Committee this week in which he admitted that recent inflation levels have rose "uncomfortably" above the central bank's goals but reconfirmed his belief that they are transitory and a by-product of the economic reopening. Excluding the volatile food and energy categories, consumer prices rose 4.5% in June from the year prior, the most in 30 years.


Key Insight – [VIDEO] Tim and Jake walk you through the steps they use to help clients define their highest priorities, the financial framework to achieve them and how they've seen this process change people's lives. [ARTICLE] New all-time highs are often met with not just excitement but also fear about what may lie ahead.


Please join us in wishing all the best to our very own Ryan and his beautiful bride-to-be Kenzie on their upcoming wedding this Saturday and for many years of happiness!!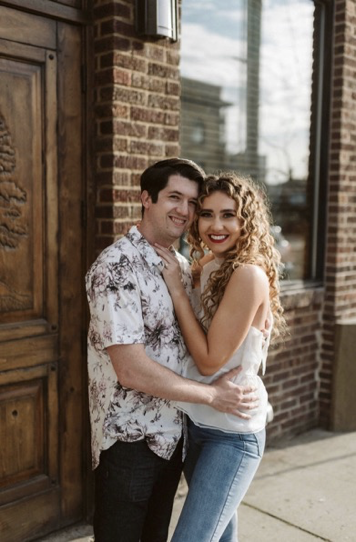 INSIGHTS for INVESTORS
New highs in stocks continue to occur, and along with them are the many concerns for what may lie ahead. Of course, the two most important points to consider are: no one knows and investors should be using solid strategies to navigate whatever is to come (i.e. income generation and/or proper rebalancing).
I often hear, "what goes up must come down" as a sort of logic for trying to predict impending doom. Yes, corrections and even crashes do happen, but equating gravity to financial markets too closely is to miss the bigger picture – markets lift over time as opposed to return to "zero."
Why should people believe there is any hope for the market from such levels?
History
As shared by Bespoke mid-week, "the S&P 500 had posted 10 new record closing highs over the span of the last 12 trading days. While a 12-day window is admittedly a bit arbitrary, we found that a double-digit number of record closing highs over that timeframe has been uncommon on a historical basis. As shown in the chart below, while there have been a handful of periods in the last 40+ years where there were 10 new highs over a 12-day period, the last time there were more than 10 was back in July 1964 … (t)he long-term chart of the S&P 500 below shows each time there were at least 10 new record closing highs over a 12-day period. Looking at the chart, there were a couple of periods where the surge in new highs came just as the S&P 500 was nearing a peak, but most other occurrences came within a longer-term rally. The table and chart below further illustrate that conclusion. In the table, we list each time the S&P 500 had 10 or more new highs over a 12-day period (with no occurrences in the prior three months). For each of those dates, we then show the S&P 500's performance over the following 1, 3, 6, and 12 months as well as the maximum gain and loss from each start date out over the next year. We have also highlighted the two periods in gray where the rolling 12-day total reached 11."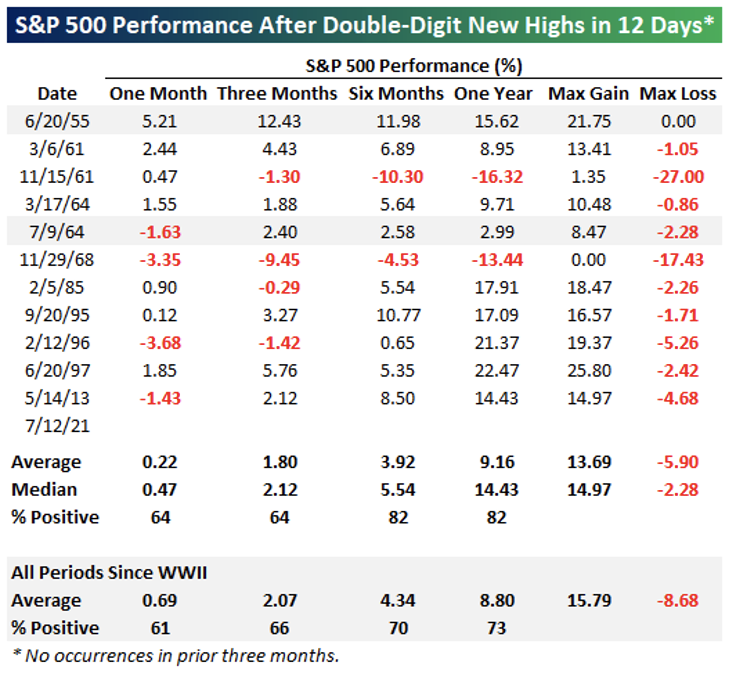 Innovation and Adaptation
One of the biggest reasons many investors fail during period of turmoil is their failure to consider that markets, companies and individuals are quick to adjust and adapt to new realities. Making longer-term extrapolations that solely use current realities worthless.
The last year has served as another example of this. JPMorgan put out some great information and actual data on Monday noting, "As an old proverb goes, necessity is the mother of invention, and the severity of the pandemic accelerated a technology boom that has boosted productivity. After decades of stagnant productivity growth in the U.S., we estimate that real output per worker rose by a lofty 4.1% annualized from the fourth quarter of 2019 to the second quarter of 2021. This likely reflects many of the genuine efficiencies realized by firms and consumers in the pandemic economy. Workers have trimmed their commuting times and logged in more hours, as rapid economic growth coincided with chronic labor shortages. Firms were forced to pull forward technological advancement to facilitate widespread remote work, and the pressures of the pandemic forced many businesses to rethink their operating models to become more efficient and agile. A general switch to goods consumption from services consumption likely further boosted productivity numbers. While we expect to lose some of this productivity boost as we return to our pre-pandemic routines and the consumption of services recovers, some of it could stick around, particularly in regards to continued remote work and increased automation. Whether this will be enough to spur further productivity growth in the years following the pandemic remains a question, but the level increase of productivity has been genuine and helps explain the extraordinary profit growth and at least some of the impressive stock market gains we've seen during the pandemic recession."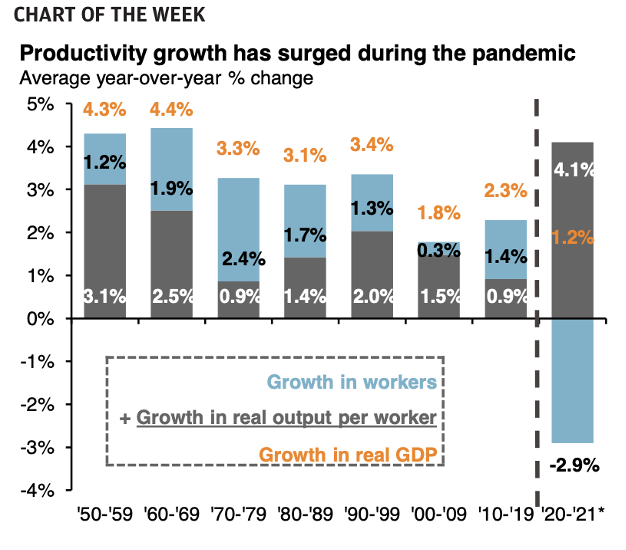 Fundamental Analysis
In closing, I'll share final piece below from Brian Wesbury that is a must read for anyone and a great example of fundamental analysis not often found on CNBC.
It is a must read not because I believe him to be right or wrong, but because it is a great example of a market valuation/outlook that uses hard data and history as opposed to feelings and market clichés to make a case for what may lie ahead.
The power in achieving one's future financial goals is always in the plan, not the prediction, and the key to staying the course is considering opinions grounded in solid analysis, not click-bait hyperbole.
Have a wonderful weekend,
Tim and the team at TEN Capital
______________________________________________________________________

4,500...Or Higher
Brian S. Wesbury, Chief Economist
Robert Stein, Deputy Chief Economist
Date: 7/12/2021
Many are convinced that a US stock market correction, or even a bear market, is inevitable. So, when the S&P 500 was down 1.6% last Thursday, many thought it had arrived. Then, the S&P 500 rebounded and hit a new all-time high on Friday. Being bearish on equities has not worked for a long time.

This does not mean the market always goes up. It doesn't mean that the government is not creating future problems. But, we don't try to time the market. What we do is focus on fundamentals, like profits and interest rates. And right now, we believe the S&P 500 is still undervalued.

Late last year, when the S&P 500 was at 3,638, we used those fundamentals to project a year-end 2021 target of 4,200, for an increase of 15.4%. However, with profits returning toward normal even faster than we had anticipated, the S&P 500 hit 4,185 in mid-April and we upped our projection to 4,500, which would be a full-year gain of about 19%.

Now, with the S&P 500 just 3% from our target, we choose to stand pat. Why? We do not want to leave the impression that we are traders, shifting our target over and over. We are investors. It's the long-term that matters. The US stock market has been undervalued relative to our Capitalized Profits Model since 2009.

Our model takes the government's measure of economy-wide profits from the GDP reports, discounted by the 10-year US Treasury note yield, to calculate fair value. If we use a 10-year Treasury yield of 1.36% (Friday's closing yield) to discount profits (from the first quarter, the most recent available), then our model suggests the S&P 500 is 45% undervalued. And with profits likely to grow 20% or more this year, fair value will rise more as the year unfolds.

Right now, the Fed is artificially holding interest rates down across the yield curve. So, when we calculate our estimate of fair value, we use a 2.0% 10-year yield. Using this 2.0% rate gives us a fair value of 5,240. It would take a 10-year yield of about 2.4% for our model to show that the stock market is currently trading at fair value (with no increase in profits.) If rates do rise, because the economy is stronger than the Fed expects, it would likely be accompanied by even faster profit growth.

We fully understand that current monetary policy is inflationary, and that past government spending, plus what some politicians are asking for right now has lifted US Federal debt above 100% of GDP.

These policies could shift economic growth, the level of interest rates and our estimate of the fair value of stocks in the years ahead. But for the foreseeable future, re-opening, easy money and deficit spending are all pushing economic growth and profits up. With the Fed holding rates down and profits booming, and with our model saying stocks are undervalued, we are still bullish. And right now we think if our 4,500 target is wrong, it is likely too low.

This report was prepared by First Trust Advisors L. P., and reflects the current opinion of the authors. It is based upon sources and data believed to be accurate and reliable. Opinions and forward looking statements expressed are subject to change without notice. This information does not constitute a solicitation or an offer to buy or sell any security