Quarterly Events are Back (as is Hoopfest) – Time to Celebrate!!
We love our clients, and our community, and we are so excited to bring them both together this July! In this week's video, Zag Legend and Hoopfest Executive Director Matt Santangelo and Tim discuss the upcoming Quarterly Event that will be a celebration of being together again, the Zags incredible year, and the return of Hoopfest – all while hanging out in our favorite venue Maryhill Winery's Tasting Room.
FIVE THINGS YOU SHOULD KNOW
Equity Markets – rallied this week with U.S. stocks (S&P 500) up 2.81% while international stocks (EAFE) rose 1.85%


Fixed Income Markets – were mixed with investment grade bonds (AGG) down -0.35% while high yield bonds (JNK) rose 0.54%


Mixed Messages Out of the Fed – this week saw mixed messaging from Fed leaders on the topic of inflation drive uncertainty in the markets on the future path of policy. Both Dallas President Kaplan and St. Louis President Bullard took a hawkish-tone this week stating that the Fed must be ready for the possibility of upside risk on inflation and that the central bank should begin tapering their ongoing bond purchases "sooner rather than later". Meanwhile, Fed Chairman Powell in speaking before the House Select Subcommittee on coronavirus took a much more dovish tone and reiterated his belief that the recent pickup in inflation is transitory.


Optimism Around Infrastructure Deal – This week President Biden and a committee of 10 Senators were able to agree on a new infrastructure plan that would see almost $1 trillion of additional spending on transportation, water and broadband infrastructure. This now sets the stage for more delicate negotiations in the coming weeks over the bipartisan deal in order to get the bill passed through Congress. The plan's cost would be covered by a re-shifting of some existing federal funds as well as revenue generated from stricter enforcement from the IRS.


Key Insight – [VIDEO] We love our clients, and our community, and we are so excited to bring them both together this July! In this week's video, Zag Legend and Hoopfest Executive Director Matt Santangelo and Tim discuss the upcoming Quarterly Event that will be a celebration of being together again, the Zags incredible year, and the return of Hoopfest – all while hanging out in our favorite venue Maryhill Winery's Tasting Room. [ARTICLE] Does another month-end uptick in volatility coupled with renewed concerns around the Fed tapering mean the end is nigh? The history of similar times may surprise you, as well as some of the key ways previous periods have differed.
INSIGHTS for INVESTORS
Key Takeaways
The Fed, and it's plans to taper, are once again dominating headlines as inflation exceeds expectations but Fed governors are torn as to next steps.


History suggests an uptick in volatility, such as we've seen over the last week, has far less predictive value around future returns than many investors might think (or fear).


One of the most common, and dangerous, traps for investors is falling prey to apophenia bias and/or making incomplete comparisons to draw conclusions. Brian Wesbury addresses the foolishness of trying to compare today to 2013 based on nothing more than the similarity in discussions around the Fed tapering.
The Fed Takes (Back) Center Stage

It seems like old times that the Fed is dominating the headlines regarding whether they will begin tapering anytime soon. Fed Governor (non-voting) Bullard was creating most of the issues for markets with his comments about tapering and raising rates sooner than was previously expected, but Fed Chair Powell did some damage too. Powell came out subsequently to say the economy still had a "long way to go" which alleviated some concerns.
Lost in these discussions, is the seemingly highly leverage hedge funds and option expirations that likely heightened the volatility late last week and earlier this week.
At the end of the time inflation is still picking up steam and jobs growth is likely to pick up steam over the next few months as well, both of which should move the 10-year Treasury rate and many other related interest rates regardless of what the Fed does and when it does it. As JPMorgan commented, "The current relationship between the total number of jobs available and the total number of unemployed Americans will be interesting to track in the 16,000 months ahead as pandemic-related benefits will have expired in 25 states by June and in the rest of states by September. If this mismatch continues upon expiration of benefits, inflation may begin to rise long before the unemployment rate falls to a level that the Fed would deem "maximum employment" If higher inflation proves to be less "transitory" than the Fed expects, investors may want to be positioned in value stocks, real assets and inflation-protected bonds to combat mounting inflationary pressure."
It's important to call out that trying to predict inflation or "trade" the Fed's moves preemptively has to date proven to be a difficult task—as has been trying to predict the next crash just because the market sits at an all-time high.
What Does History Say?

Bespoke addressed investors desire to find predictive value from such moments stating, "What was somewhat unique about the current pair of 1% moves was that they occurred so close to a record high. In the post-WWII period, there have only been 21 prior occurrences where the S&P 500 fell more than 1% after closing within 1% of a record high and then immediately bounced back 1% the following day. Some have asked us whether the back and forth volatility at a record high is a sign of instability in the market and whether it may indicate trouble brewing underneath the surface. The chart below shows the S&P 500 over the last ten years with each occurrence during that span shown in red. From 2013 through early 2015, there were five occurrences, and then the S&P 500 traded sideways for more than a year. There was another occurrence in June 2016 just before the Election, and until yesterday there weren't any others."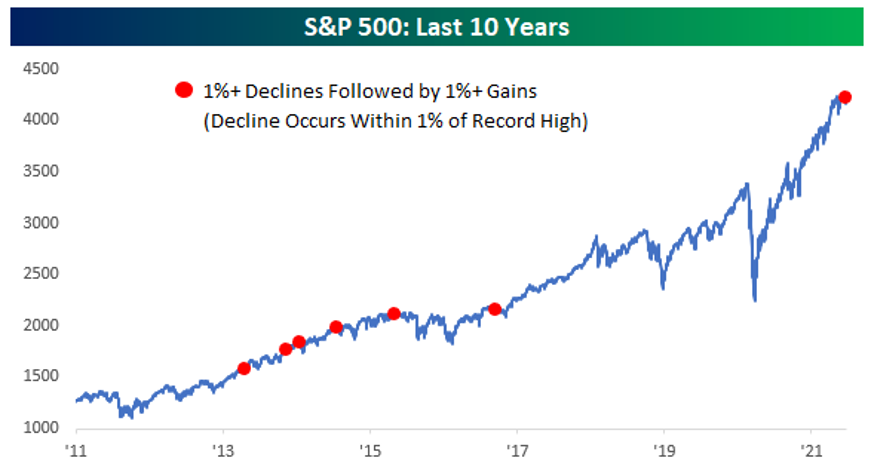 They continued, "Looking at these occurrences over a longer-term stretch, the table below shows every prior market 'flip-flop' where the S&P 500 dropped 1%+ after closing within 1% of a record high and then immediately rallied more than 1% the following day. For each period, we also included the S&P 500's performance over the following week, month, three months, six months, and one year. In the immediate aftermath of these prior moves, the S&P 500's average and median returns were roughly in line to modestly below average. Three months later, the S&P 500's average return was modestly below the average for all periods while the median performance was a bit better than average. Moving out over the next six months, both the average and median performance of the S&P 500 was better than the average six-month and one-year performance for all periods since 1945.

While the performance figures are only marginally better than average and don't provide a compelling argument for further outperformance, they also don't support any idea that this type of volatility within such close levels of an all-time high is any sort of ominous signal."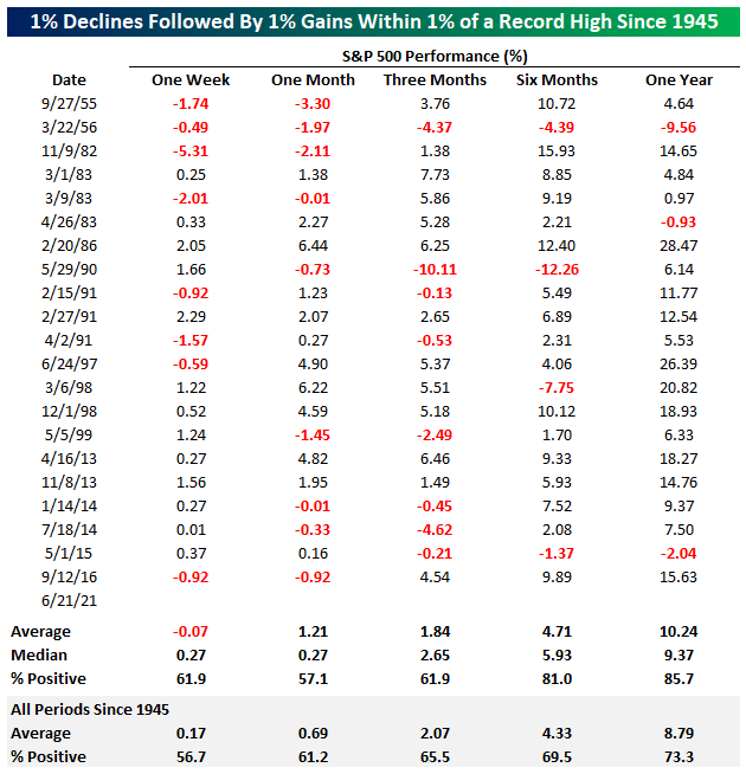 Summary
In closing, we'd remind investors that "the power is in the plan, not the prediction" and to be wary of oversimplified comparisons from the ever-present doomsayers. Fed fears are very 2013, as Brian Wesbury discusses in a great piece below, but every time is different.
What stays true over time is discipline and patience, as is often the case that means selling some winners and diversifying into some new areas outside just U.S. stocks and bonds as we discussed in the last two commentaries.
Have a wonderful summer weekend,
Tim and the team at TEN Capital
Taper Tantrum Two? To view this article, Click Here
Brian S. Wesbury, Chief Economist
Robert Stein, Deputy Chief Economist
Date: 6/14/2021
To drive home his commitment to easy monetary policy and low interest rates in mid-2020, Federal Reserve Chairman Jerome Powell declared the Fed was not even "thinking about thinking about raising rates."

The Fed meets again later this week and, very likely, is still not thinking about thinking about raising rates. But that's only part of the Fed's tool kit. Bond purchases are another, and have been running at a pace of $120 billion per month ($80 billion in Treasuries and $40 billion in mortgages). With inflation up, and the economy growing, the Fed is most certainly thinking about how to "taper" this bond buying.

As a result, some investors are worried about the impact on financial markets. Back in 2013, when Fed Chairman Ben Bernanke hinted that the Fed would slow the pace of quantitative easing, the 10-year Treasury yield jumped from roughly 1.7% to 3.0%, while the stock market hit an air-pocket. This rough patch for markets was famously dubbed the "Taper Tantrum."

That financial turbulence was enough to put Bernanke and the Fed back on its heels, and they ended up postponing actual tapering until the beginning of 2014.

So, what happens this time? It's true that monetary stimulus has been a key part of the current recovery from pandemic shutdowns. However, with so much liquidity in the financial system, we are skeptical that a policy shift toward tapering would create the same kind of market response for a few reasons.

First, the bond market has experience with tapering. When tapering finally ended in October 2014, bond yields were back down to about 2.3%. In other words, the tumult in markets was temporary. Eventually, the Fed didn't just taper, it shrunk its balance sheet, which bottomed in August 2019 when the 10-year yield was back down to about 1.6%. So, after all the fear about tapering, yields eventually fell back to where they were before Bernanke even talked about tapering in the first place.

Second, the US is awash in monetary liquidity, and will remain so through any tapering and well beyond. That's why the Fed is currently conducting massive reverse repo operations. There is so much cash that the financial system is perfectly willing to park it at the Fed...which, if you think about it, is a kind of self-tapering. The money is just not necessary for economic growth.

Third, the need for Fed bond buying to finance government spending is waning. President Biden originally asked for close to $4.3 trillion in extra spending for the next ten years, but Congress has balked. The White House might have to settle for as little as $1 trillion, maybe even less, depending on negotiations with Congress. Moreover, part of the spending package may come from money re-purposed from prior spending bills. No wonder bond yields fell last week even while consumer prices rose rapidly.

Last, it's important to keep in mind that back in 2013, many, many investors were worried about a double dip recession. As a result, when the Fed said growth was strong enough to taper, higher bond yields were a sensible response.

Today, investors see rising growth due to reopening and higher inflation because of easy money. This is not 2013, when consumer prices were up only 1.7% in June versus the prior year. Now, when a taper is announced it'll be the Fed signaling it's getting slightly more serious about inflation.

A taper at this point, is NOT tightening. As a result, yields should be a higher a year from now, but a tantrum-like surge is unlikely.

This report was prepared by First Trust Advisors L. P., and reflects the current opinion of the authors. It is based upon sources and data believed to be accurate and reliable. Opinions and forward looking statements expressed are subject to change without notice. This information does not constitute a solicitation or an offer to buy or sell any security.