Keys to Success: A New Teammate & A Timeless Reminder
In this week's video Jake introduces you to our newest teammate Jonna Damiano and her initial thoughts on being a part of the TEN Capital community.
FIVE THINGS YOU SHOULD KNOW
Equity Markets – were mixed this week with U.S. stocks (S&P 500) down -0.32% while international stocks (EAFE) rose 0.34%.


Fixed Income Markets – were also mixed this week with investment grade bonds (AGG) gaining 0.21% while high yield bonds (JNK) fell -0.10%.


Fed Signals Progress – This week the Federal Reserve decided to leave interest rates unchanged at 0% and asset purchases at $120 billion a month but noted that they are getting closer to begin tapering of their massive support of the U.S. economy. The Fed also reiterated language that signals their belief that a recent rise in inflation is due to "transitory factors" and not a trend that should continue indefinitely.


Infrastructure Bill – The Senate voted this Wednesday to officially begin working on a $550 billion infrastructure bill after it passed with a 67-32 procedural vote. This strong showing is a good indicator that the package may pass the chamber as early as next week, with new taxes of cryptocurrency believed to be one possible source of funding.

Key Insight – [VIDEO] In this week's video Jake introduces you to our newest teammate Jonna Damiano and her initial thoughts on being a part of the TEN Capital community. [ARTICLE] Dave shares a fun piece about the lessons learned from his latest family adventure and how some simple steps gleaned from TEN's processes not only helped them enjoy it a bit more, but how those steps can help you as well – whether it's literally a trip or your financial journey.


What an honor it was to spend time with the Stanley Cup in person this week, a huge congratulations out to our friend Tyler Johnson on all of his accomplishments and for bringing the cup back to Spokane!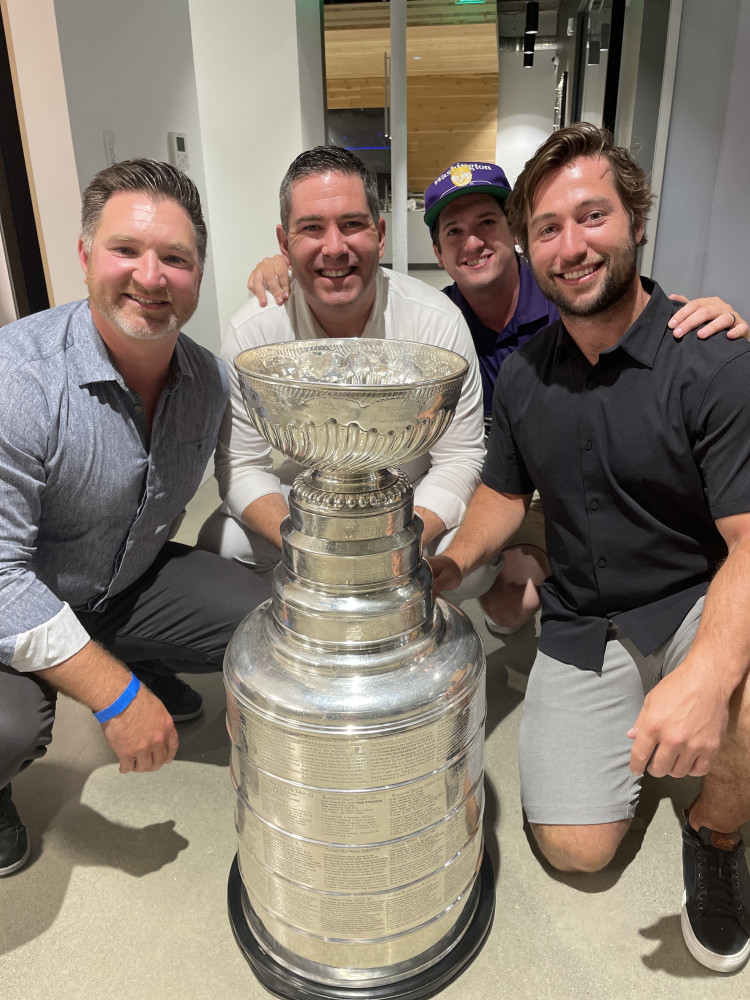 INSIGHTS for INVESTORS
Today, I write this on my wife and I's 15th wedding anniversary! Tasha is my high-school sweetheart and at this point, we've had closer to a 22-year relationship. We are 3 kids deep, have good health, and are able to live the pretty darn active lifestyles we both desire. Believe it or not, we still call each other our best friends after all this time! There is absolutely nobody else in this world I'd rather travel, raise a family, or do something as simple as having a glass of wine on our back deck and talking about my day with. Tasha is truly the best wife, Mom and life partner I could have asked for.
We recently had the opportunity to take a month and travel the West Coast in our old 20-foot travel trailer. This, of course, made possible due to the amazing team around me at TEN. Getting to be with my wife and kids every day was pretty amazing and allowed me to forego saying the daily "goodbye" to the kiddos and the "see you when I get home around dinner". Simply put, it was incredible. Trying at times with a 3, 6, and 7-year-old; but nevertheless, incredible.
Before we left, we both did a ton of prep work to get things ready for such a long trip. Alongside this prep work we had talked a lot about what we thought the trip may look like. We assumed unplanned things would happen. Flat tires, maybe someone getting sick or perhaps we just may have a bunch of tired and cranky kids that won't sleep well in the trailer. Who knows! One night, over a glass of wine, Tasha and I made a simple agreement - regardless of what circumstances are thrown at us, we will have a good time!
Honestly the trip went fairly smooth – minus a few hiccups. For starters, the trailer door almost fell off on a highway in the middle of the salt flats of Nevada (true story). Not to mention the electrical issues with the trailer and a refrigerator dying on us the day we left for Yellowstone. Outside of that and needing to pivot some of our plans due to the extreme heat mid trip, we were home free. Even with these unforeseen events, it was still fantastic. They are now just funny stories that brought personality to what was an incredible trip but could have derailed our time on the road if we let them.
What was the magic behind making this trip so great? In my opinion – mindset. A mindset of abundance and gratefulness quite literally may have been the difference between an amazing trip and one not so amazing (even with the same circumstances)! We weren't going to let circumstances out of our control determine the outcome of our family's trip.
So, I'd ask you this – given your set of circumstances in life (your personal financial plan, your career, your family), what is your mindset? Whether it's from my own experience around this trip, or that of working alongside families building and managing their personal finances, I've witnessed first-hand the importance of three things to maintaining a healthy mindset along the way to any meaningful destination:
An intentional conversation about goals and expectations.
A plan built to withstand the inevitable "detours" on any journey.
Acceptance in advance of the fact that challenges are inevitable and need not be feared.
This three-part process, which reflects key components of our process here at TEN, mixed with a little gratitude for what one already has and optimism for what's ahead (e.g. what we call a "wealthy mindset"), will not only help improve one's odds of reaching their personal destinations in life but also improve their ability to enjoy the ride along the way regardless of what circumstances may arise.
As always, we are honored to partner with so many of you on your own paths to a successful financial future.
Cheers to you and yours,
Dave and the team at TEN