Is the Shift Upon Us?
Is the Shift Upon Us? Tops and bottoms, whether to economic data or markets, are processes not points. Recent rhetoric, data and historical context are beginning to suggest a shift in mindsets and markets may be upon us.
Is the Shift Upon Us?
Tops and bottoms, whether to economic data or markets, are processes not points. Recent rhetoric, data and historical context are beginning to suggest a shift in mindsets and markets may be upon us.

FIVE THINGS YOU SHOULD KNOW
Equity Markets – were higher this week with U.S. stocks (S&P 500) up 2.70% while international stocks (EAFE) rose 3.52%.


Fixed Income Markets – were higher with investment grade bonds (AGG) up 0.84% while high yield bonds (JNK) rose 1.63%.
Slowing Inflation – welcomed news as the CPI report Thursday showed the U.S. inflation rate dropping from 7.1% to 6.5% in December. The Fed and the White House have been watching these numbers closely as rising rates have dampened the once red-hot prices. The core inflation numbers which remove energy and food have also moved down from 6% to 5.7%. Lower core inflation will no doubt influence the Fed's next move as the president of the Fed Bank in Philadelphia Patrick Harker said, "I expect that we will raise rates a few more times this year, though, to my mind, the days of us raising them 75 basis points at a time have surely passed".
Hard Times at Goldman – this week proved to be a tough week for the investment giant Goldman Sachs as they moved to layoff over 3,000 staffers in an attempt to cut costs. This only equals out to about 6.5% of their workforce but is a stark contrast to the hiring frenzy years before. Elsewhere in the company, their attempt to jump into small time consumer banking has hit them with a $3B loss and as a result will look to restructure this endeavor.


Key Insight – [VIDEO & ARTICLE] Tops and bottoms, whether to economic data or markets, are processes not points. Recent rhetoric, data and historical context are beginning to suggest a shift in mindsets and markets may be upon us.


INSIGHTS for INVESTORS
[Things] happen slowly, and then all at once. – common paraphrase of dialogue in Ernest Hemingway's The Sun Also Rises
Pundits Softening their Stance
One of the first things to surprise me earlier in my career, though in truth it never seems "normal", is how quickly market sentiment can shift. 2022 brought literal records in dour/bearish sentiment and talk from industry titans of pending "economic hurricanes" that lasted right through year end, only to give way to green shoots of improved rhetoric, mindsets, and a US stock market up over 4% in the first two weeks.
Case in point. There is no bigger name in finance than JPMorgan CEO Jamie Dimon and no bigger force of nature than a hurricane, so it made perfect sense that he dominated headlines and scared many an investor when he warned last year of an impending "economic hurricane." And yet, he appears to now be changing his tune.
As reported by Barron's on Wednesday, "JPMorgan Chase CEO Jamie Dimon walked back comments he made in June when he warned of a coming economic "hurricane" … "I shouldn't have ever used the word 'hurricane,'" Dimon said in an interview with Fox Business. "What I said was there were storm clouds which may mitigate. People said they didn't think it was a big deal, and I said no, those storm clouds could be a hurricane. And so I'm saying this stuff, I'm talking about … it could be nothing [or] it could be bad, and I think we should understand, I'm not predicting one or the other." He went on to generalize that those early storm clouds have already hit, with inflation, quantitative tightening by central banks and the stock market down 20%."
Other notable names have also begun to speak up with improved outlooks.
Goldman Sachs made headlines this week with their forecast that not only would the US likely avoid a "hard landing" (e.g., severe recession), but that the Eurozone may avoid a recession altogether (note that the MSCI EAFE international stock index is up over 7% year to date).
Two others noted in Bloomberg articles were Edward Yardeni and Mario Gabelli. "Edward Yardeni, [was] the strategist who saw resilience in the US economy last year when almost everyone else was predicting recession, remains sanguine about where global financial assets including US stocks are headed. "The outlook for the world economy is actually improving," the president and founder of Yardeni Research said Wednesday. US equities "made a low on Oct. 12. That was the end of the bear market and we're back in a bull market." Since closing at 3,577.03 that day, the S&P 500 has risen almost 10%, so maybe there's something to that."
While Mario Gabelli noted, "Corporate cash flows in 2024 is going to be terrific and the outlook is pretty bright," the chairman and CEO of GAMCO Investors said in an interview with CNBC."
This appears to be trickling down to investors in general as the most recent AAII investment sentiment survey saw an uptick in bullishness from 20% to 24% week over week.
Data Continues to Send Positive Signals
As we discussed last week a simple reading of some data points can be misleading. I saw some pundits raising concerns due to both manufacturing and service sector ISM readings falling below readings of 50 which signals contraction. The problem with such reasoning? Historically it's a signal of the past more so than the future. As Bespoke discussed, "December was the first time since May 2020 that both the ISM Manufacturing and Non-Manufacturing reports dropped into contraction territory (<50). In 25 of the 26 prior months that both indices were below 50, the US economy was either in or within three months removed from a recession."
What could support economic resilience if not a rebound? As noted by Torston Slok at Apollo, "The Fed just released new data for the amount of money households have in their checking accounts and short-term deposits, and it shows that households across the income distribution continue to have a higher level of cash available than before the pandemic, and the speed with which households are running down their cash balances in recent quarters has been very slow. Combined with continued solid job growth and robust wage inflation, the bottom line is that there remains a powerful tailwind in place for US consumer spending."
Despite the mounting concerns around corporate health as we enter into earnings season, S&P Global recently released an interesting and more optimistic outlook. They have begun to use natural language processing algorithms to get a more accurate read from earnings calls.
They noted, "In Q3'22, the sentiment of S&P 500 firms has deteriorated to a level not seen since the IMF Greek Debt Default. Firms' focus has shifted away from pandemic-related concerns to interest rate-related ones. Financial growth is uneven. The breadth of firms citing profitability growth remains a bright spot yet the number of firms citing bottom-line growth has been mired in an "earnings recession" throughout 2022. Guidance for Q4'22 is far from falling off a cliff. The breadth of S&P 500 firms citing growth in profitability actuals in the current season has held up resiliently well with a percentile ranking of 82, 12th best in the past 60 seasons. suggest the ranks in guidance in quarter(q) are a good indicator of what will most likely transpire for the actuals in quarter."
And last but certainly not least is the most recent data around inflation.
This week brought the most recent CPI reading from December which came in at an annual rate of 6.5%, in line with the consensus, and also a drop from November's 7.1% rate. Furthermore, the reading was the lowest since October 2021. Even more important in our view than the year over year number is what the recent trend is. The monthly headline number actually surprised expectations coming in at -0.1% vs. expectations for a flat reading bring the six-month average to just 0.15% which would imply a forward-looking rate of approximately 2%.
The Fed appears to finally be taking notice with Fed Governor Patrick Harker saying 25-bp increases "will be appropriate going forward" and fellow Fed Governor Thomas Barkin saying, "it makes sense to steer more deliberately."
Bespoke pointed to the yield curve as evidence that the market believes the above Fed sentiment will carry the day versus any more hawkish colleagues, noting "Yields on these three Treasuries are telling investors (and the Fed) where "the market" expects the Fed funds rate to be over the duration of the maturities. Right now, the market expects rates to peak at some point in mid-2023 before ultimately pulling back. The fact that no points on the Treasury curve are currently above 5% tells you what the market thinks about the Fed's unanimous support of getting the Fed funds rate above 5% and holding it there. It doesn't buy it."
Look Through the Storm
I'll wrap up with a reminder that while our emotions tell us the struggle will continue forever, history tells us something quite different. As you can see from the two charts below, the markets most probable "response" to a really tough year is not perpetual weakness but renewed strength.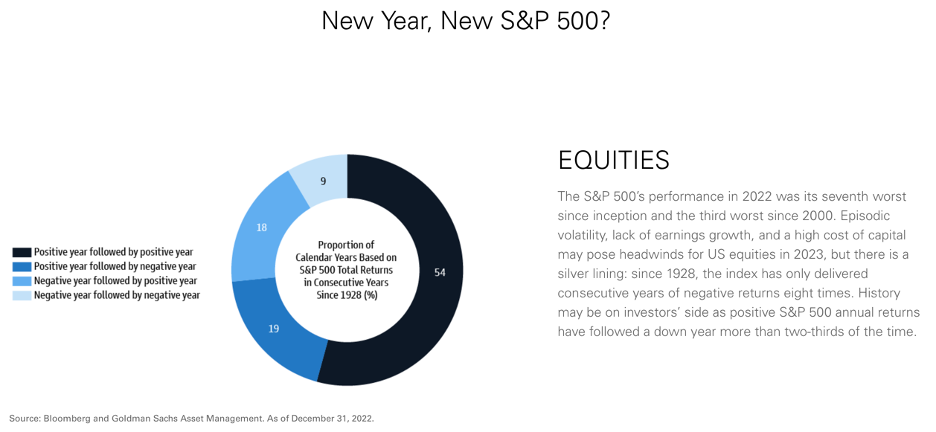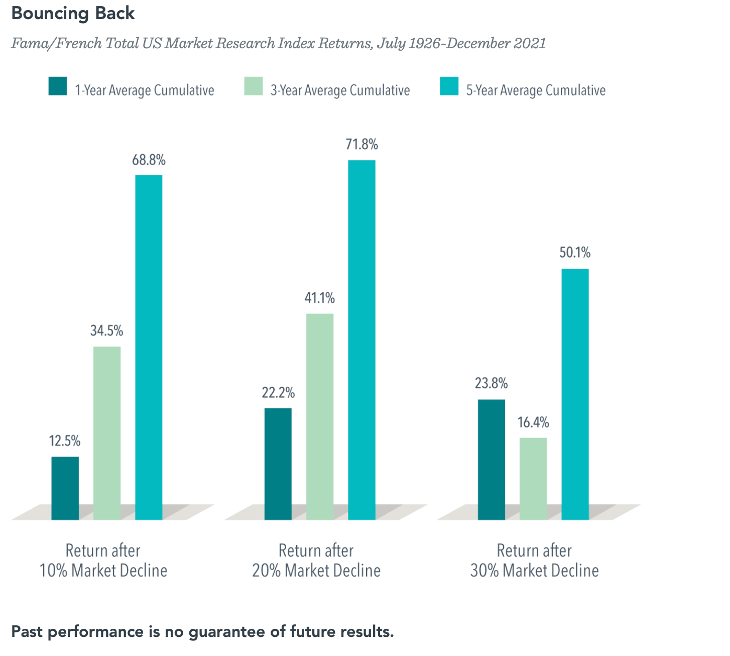 In Summary
Markets move in counterintuitive ways as we discussed last week (link here in case you missed it) and one big reason for that is they'll often begin to "shift" into a new phase long before many of the headlines or data reading do.
Such transitions take time, but history tells us they do eventually happen, and the disciplined investor can be rewarded quite handsomely.
You just need to "buy" yourself that time which is function of discipline coupled with either the benefit of "youth" or sufficient cash flow to avoid forced sales.
We can't make any of us younger unfortunately, but we can certainly help with the partnership and planning.
Have a wonderful weekend,
Tim and the team at TEN Capital

DATA, JUST THE DATA
Data points this week included:
U.S. Jobless Claims – fell by 1K to a claimant count of 205K for the week ending January 7th, which was far below expectations of 215K. This is the lowest amount in three months and points once again to a tight labor market. The four-week moving average has fallen by 1.75K to 212.5K.
U.S. CPI – the annual inflation rate dropped from 7.1% to 6.5% for the month ending in December 2022 and marks the lowest rate since October 2021. Energy dropped from 13.1% to 7.3% while gas costs dipped to 1.5% after a 10.5% hike in November. Food prices slightly edged down by 0.2% to 10.4% and used cars are now down (8.8%). MoM, CPI moved down 0.1%, but the YoY 6.5% reading is now significantly below the peak of 9.1% in June.
U.K. Monthly GDP – Britain's economy expanded 0.1% MoM in November which was slightly lower than the month previous of a 0.5% expansion. This beat out expectations of a (0.2%0 decline with output in consumer facing services up 0.4%. The service sector rose 0.2%, but production output faltered (0.2%). Manufacturing could be linked as the largest factor of said decline. Their economy is still estimated to be (0.3%) below pre-COVID levels in February 2020.
Eurozone Industrial Production – expanded 1% MoM for November which was a welcomed rebound after a (1.9%) falter in October. This also beat forecasts of a 0.5% rise. Output of capital goods rose 1%, intermediate goods saw a 0.8% gain, and non-durables rose 0.4%. Germany and France led the way with rises of 0.6%, and 2.1%, respectively. YoY industrial production in the Eurozone is up 2%.