Fed Drives Investors from Fear to FOMO
The Fed held center stage yet again this week, and while not explicit in what their plans are for rates, the market chose to interpret them as "dovish" sending markets from a state of being braced for the worst of outcomes, to likely pricing in the best of outcomes. We discuss what to believe.
Fed Drives Investors from Fear to FOMO
The Fed held center stage yet again this week, and while not explicit in what their plans are for rates, the market chose to interpret them as "dovish" sending markets from a state of being braced for the worst of outcomes, to likely pricing in the best of outcomes. We discuss what to believe.
FIVE THINGS YOU SHOULD KNOW
Equity Markets – were mixed this week with U.S. stocks (S&P 500) up 1.64% while international stocks (EAFE) fell -0.25%.
Fixed Income Markets – were higher with investment grade bonds (AGG) up 0.23% while high yield bonds (JNK) rose 0.30%.
Robust Jobs Report – the U.S. economy surprisingly added 517,000 jobs in January, almost tripling expectations of 188,000. This stands in contrast with the Fed's goal of softening a heated labor market and sent the unemployment rate down to 3.4%, the lowest on record since 1969. The news sent markets lower on Friday with the expectation that the Fed may need to push out any current plans to halt rate hikes.
Housing Market Cools – home prices in the U.S. are down 2.5% from their peak in June 2022. This is considered one of the worst annual slides in over a decade with mortgage rates applying downward pressure. Borrowing costs have eased slightly with the 30-year fixed rate in at 6.13% (up from 3.78% a year ago), but applications still fell 9% in volume last week and are down 41% year-over-year.
Key Insight – [VIDEO & ARTICLE] The Fed held center stage yet again this week, and while not explicit in what their plans are for rates, the market chose to interpret them as "dovish" sending markets from a state of being braced for the worst of outcomes, to likely pricing in the best of outcomes. We discuss what to believe.
INSIGHTS for INVESTORS
For obvious reasons I get asked about my "outlook" with some frequency and of course I am always studying to position the probabilities of certain outcomes in my mind…and when called for, our portfolios. However, as I said here before, this is not to predict but rather prepare – both emotionally to avoid surprises as well as have our "next moves" planned in advance.
This week's "surprising" moves in markets definitely triggered responses in investors everywhere, and the animal spirits seemed to have been awakened, as we laid out as a likelihood a couple weeks ago (see here 1/13/23).
While there is certainly reason for some optimism as we'll discuss below, investors should be slow to chase the market, particularly in ways that would pull them out of their risk tolerance. The current environment is hardly signaling the long-awaited, mostly mythical, "all-clear."
I. What Happened this week to send Market ripping Higher?
Investors entered the week pretty cautious with both a number of big earnings reports set to be released, as well as an announcement from the Fed on their future plans.
As to the earnings releases, Bespoke noted, "This week was billed as the most consequential week of earnings season, and through Thursday at least, the bulls have delivered. After both the S&P 500 and the Nasdaq kicked off the week with declines of more than 1%, they have bounced back over the last three days with gains of over 1% for three straight days." Such combined moves have only happened eight times since 2001, with all of them expect 2001 followed by solid one-year returns. (See accompanying chart)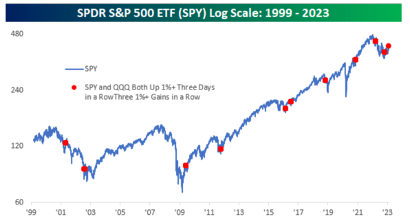 As to the most recent comments from the Federal Reserve and their impact on markets comes this great summary and insights from Tom Essaye addressing the question, "Why Did Stocks Rally So Hard After Powell's Presser?"
He went on to say, "Markets rallied because Fed Chair Powell refused to strongly signal that terminal fed funds will get above 5%, and that there will be no rate cuts in 2023. Put simply, he was "wishy-washy" and for a market that already doesn't believe what the Fed is saying, the "wishy washy" presser only further emboldened those who think the Fed is bluffing on further rate hikes and on no rate cuts in 2023.
Now, that might seem confusing because there were sound bites from Powell that appeared hawkish, including stating that the Fed will raise rates "a couple more" times (which seems to get fed funds to 5.125%). But we need to remember this: The market does not believe what the Fed is saying. It doesn't when the Fed says the terminal rate will be 5.125% and it doesn't believe the Fed when it says there won't be any rate cuts this year. Powell did nothing yesterday to make the market believe the Fed, and because of that the market simply doesn't believe them even more now—and that is why stocks rallied."
Essaye, continued by cautioning against investor exuberance in his answer to the question of, "So, Was This a Bullish Gamechanger? No, at least not from current levels. Powell didn't tell us anything the market didn't already assume, he just strengthened the market's existing assumption which are already mostly priced in with the S&P 500 above 4100. However, while that's not enough to ignite materi-al upside from here, it does support the YTD rally and reduce the near term downside in this market to some- thing more like 5% - 10% from greater than 10% (as long as there are no major surprises from the data)."
Brian Wesbury similarly cautioned about investors getting too giddy during this market run-up in his summary of the press conference stating, "Nick Timiraos – the Wall Street Journal's Fed reporter who many watch as an unofficial mouthpiece for Powell and Co. – asked the question that many have been thinking. Can the Fed simply pause at the current level of rates and watch to see how that flows through to inflation prints in the months ahead? Powell responded by saying the Fed thinks the greatest risk – and the most difficult situation for the Fed to manage – is in not doing enough and seeing inflation reaccelerate. If the Fed overshoots on tightening and inflation comes down faster and further than anticipated, the Fed has far more tools available to ease policy. Victory over inflation is priority #1. It's good the Fed has prioritized the fight against inflation, but the necessary path to get there will likely bring volatility to the financial markets. While markets have rallied to start the year, we expect the party to end once they realize how much the economy will slow due to the decline in the M2 measure of the money supply since early last year."
II. What may be next?
Is a recession a foregone conclusion given the current state of the yield curve?
Not necessarily, as summarized by Alpine Macro, "…the 10-2 year spread seems to have over-predicted recessions 30% of the time, while the 10y-3m curve has only failed to anticipate one recession (1990). Perhaps this explains Fed Chair Jay Powell's preference for the 10y-3m curve as the recession indicator." However, while "both the 10-2 year and 10y-3m curves are deeply inverted, suggesting that statistically, the odds of a recession are high. Nevertheless, other key indicators like high-yield and TED spreads do not suggest an imminent recession. Therefore, investors should treat the yield curve signal with a grain of salt."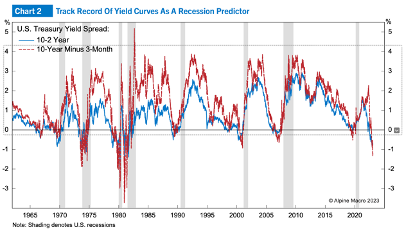 Most importantly they highlight that just like recessions in general, yield inversion does not mean the market or economy will do any one thing in particular – let alone the magnitude of a move. They stated, "…although curve inversion indicates that monetary settings are too tight, it does not foretell the nature or severity of the impending economic slump. We cannot gauge the severity of an impending economic downturn from the magnitude of curve inversion. Our conclusion is that a 2001 style recession is possible, but the depth of EPS decline will be shallow due to higher-than-average nominal GDP growth …[and]… reaffirms our bullish stance on stocks and bonds, although bonds seem to offer bigger upside potential."
On the more antidotal side of prognostications based on "prior history", is the historic pattern around the average annual return for the stock market after a solid January, especially after a poor prior year, which suggests 2023 may bring above average gains. (See accompany chart from Bespoke)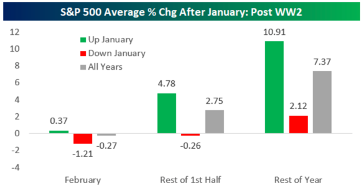 As pointed out by Bespoke, "Drilling down further, there have only been two other instances since WW2 where the S&P gained more than 5% in January after posting a double-digit percentage decline in the prior year: 1967 and 1975. As shown below, the S&P continued to rally in February and through December in both of those years."


III. What Investors Need to Avoid – Holding Excessive Cash
Investors will torture themselves over questions regarding the market's future or small changes to portfolio allocations all the while missing one of the biggest, and usually easiest, ways to improve their overall returns – putting long-term cash to work. We are helping a number of clients capture meaningfully more interest on their cash to outpace inflation, given the opportunities that currently exist in the fixed income space.
As detailed by Robert Carey of First Trust, "Losing money safely - Following the financial crisis, the Federal Reserve ("Fed") shifted to an "abundant reserve" monetary policy and held rates at zero, according to Brian Wesbury, Chief Economist at First Trust Portfolios L.P. (Click Here to see Brian's Monday Morning Outlook covering this topic). This shift, combined with a protracted low interest rate environment led to a dramatic decline in the yields on 30-day T-bills, which were no longer able to keep pace with inflation. In fact, an investment in a 30-day T-bill would have produced a negative real return over the past 15 years (see table)."
He continued summarizing his take this way, "The market has changed. Investors should weigh the impact negative real rates of return may have on their portfolios and consider adjusting accordingly, in our opinion."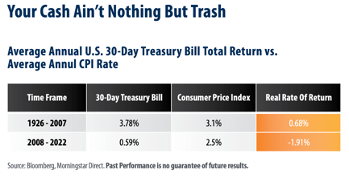 If you are looking to improve returns and avoid allocating too much to a chronically underperforming assets class (see chart below), you need to determine what you truly need for emergency cash (do many people really have $500,000 unexpected events?) and get the rest to work in a solid conservative investment.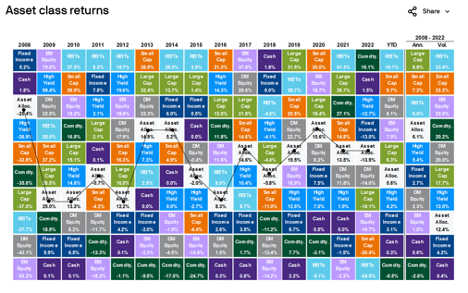 As always, we are here to help answer questions and get you and your family to an optimal place to help you achieve your dreams and goals.
Have a wonderful weekend,
Tim and the team at TEN Capital
DATA, JUST THE DATA
Data points this week included:
U.S. Jobless Claims – fell by 3K to a reading of 183K for the week ending January 28th. This is the lowest claimant count since April and was below market forecasts of 200K. The four-week moving average has fallen by 6K to a reading of 191.5K.
U.S. Consumer Confidence – the Univ. of Michigan consumer sentiment came in at 64.9 in January, which marks the highest reading since April. The expectations gauge came in at 62.7 and the current conditions index reported at 68.4. The 5-year inflation outlook dipped to 2.9%.
U.S. ISM Manufacturing PMI – the PMI fell to 47.4 in January, which marks the lowest since May 2020 and slightly below forecasts of 48. With another reading below 50, this shows the third consecutive month of a contraction in factory activity with slowed outputs. New orders fell from 45.1 to 42.5, production dipped from 48.6 to 48, and backlogs of orders rose from 41.4 to 43.4. Employment rose slightly, but companies have indicated headcount reduction will likely not occur.
U.S. Jobs Added – the U.S. economy caught fire in January adding 517K jobs and demolishing forecasts of 185K jobs. Hospitality added 128K, as professional & business services added 82K, and healthcare added 58K. Revisions for November and December also added 71K jobs for 2022. This continues the narrative of a flourishing labor market amongst interest rate hikes and attempted cooling by the Fed.
U.K. PMI Manufacturing Final – came in at 47 for January, up slightly from estimates of 46.7 and above the 31-month low from December of 45.3. This marks the sixth consecutive month of contraction. New orders dipped for the eighth month in a row, with lower demand from domestic and overseas clients, and unemployment fell for the fourth month running. Input cost inflation flowed down to a 27-month low, but business optimism rose for the first time since April.
U.K. PMI Composite Flash – fell from 49 to 48.5 in January. Another reading under 50 marks the sixth consecutive month of contraction in the private sector. This is the longest period of decline since the 2008 financial crisis. As noted above, the manufacturing sector has continued to struggle, as has the service sector, despite some job creation.