Fading One's Feelings to Find Success
Tim discusses the choppiness in the markets this week, as well as some important lessons/takeaways for investors to keep in mind during highly volatile periods.
FIVE THINGS YOU SHOULD KNOW
Equity Markets – were mixed this week with U.S. stocks (S&P 500) up 0.81% while international stocks (EAFE) fell -0.87%.


Fixed Income Markets – were mixed with investment grade bonds (AGG) down -0.27% while high yield bonds (JNK) rose 0.82%.

Ukraine/Russia Conflict – After weeks of speculation Russian forces officially invaded Ukraine this week in what is being described as a "full-scale invasion". The United States and Europe were quick to impose a first round of sanctions against Russia, most notably the halting of the Nord Stream 2 gas pipeline and personal sanctions against Vladimir Putin and Foreign Minister Sergey Lavrov. With Kyiv in Putin's sight of destruction, we send our thoughts to the people of Ukraine.
Markets Mixed – As to be expected markets whipsawed this week on the news, opening Thursday well negative but closing the day in the green. In fact, for the first time in history the S&P 500 opened the day down more than 2% to a new YTD low but closed the day with a positive gain of more than 1%. While purely anecdotal and not a basis for investment process, the stat highlights the current heightened levels of volatility.


Key Insight – [VIDEO] and [ARTICLE] Tim discusses the choppiness in the markets this week, as well as some important lessons/takeaways for investors to keep in mind during highly volatile periods.


INSIGHTS for INVESTORS
For my thoughts on the craziness of this week, please watch the video above. Suffice to say, this week was one for the books, and an important one for investors to remember. As you listened to all the talking heads, and read on the thoughts of so-called experts about the Armageddon that was assuredly right around the corner, how did you feel? What did you do or consider doing?
Let me be clear here before I continue, what is unfolding in the Ukraine is heart-breaking, but how we think/feel about a situation like that as humans versus how we think about it in terms of what we are going to do with our portfolios are VERY different things.
As I wrote about last year in the Commentary entitled The Uncomfortable Truth about Mr. Market, the logic/feelings/timelines we use to guide are lives are rarely anything like what guides market movements. That is a very difficult truth for people to accept/employ in their financial lives.
Furthermore, just as Mr. Market is confusing and unfeeling much of the time, so too is Mr. Media. I am often asked about the opinions or outlooks expressed on T.V. and the simple and consistent answer is, I don't care. Those people are actors not analysts, paid to be compelling, not correct.
I am accountable for my actions to my clients and colleagues, and despite how this sentiment might initially come off, it is one that reflects humility not arrogance. Unlike the "talking heads", I don't pretend to predict markets or to be able to explain every twist and turn it takes. I spend my time and energy creating and evolving a process that can be successful without the type of perfect timing or all-knowing understanding many pretend to have but is in truth beyond us all. For more on the dangerous forces working against investors, check out are prior commentary entitled Patsies, Prophets and Processes December 8th, 2017.
Buying "Low" is Scary because Good Entry Points Don't Happen on Good News

We aren't traders, but unlike many in our industry we aren't asleep at the switch either. We raised cash in January as part of our process of both rebalancing coupled with our view of shifting risk/return probabilities in markets.
This Wednesday we put some of that cash back to work, as it would turn out, just hours before Russia sadly invaded the Ukraine. We didn't do that knowing the market would be up the next two days or because we were calling the "bottom." We did it because the market reached a low we believed would happen after a lot of analysis, and because updated data and sentiment readings (see charts reflecting historic levels of bearishness amongst advisors and investors below that as you'll see from other previous timeframes is often near market lows) strongly suggested the market was reaching a point of being oversold indicative of a good long-term entry point.
Buying "low" is always scary. Just like March of 2020, the fears and headlines are real, but good entry points never occur on good news. Thursday's market action was a perfect example of this, as who would have thought the actual invasion and a 2.5% plus after-hours decline would reverse in the same day to see equity markets all finish solidly positive, followed up with another big day Friday? No one honest with themselves or others.
Investors need to accept how counter-intuitive markets act to aid in their emotional responses and improve their decision making. To be successful as an investor invariably means doing some things that don't feel good whether that's parting with a winning position or buying into fear and hysteria with no good "event" to back up your decisions.
Investing is an endeavor that takes patience, discipline, a solid plan and at times a measure of courage. We are honored to come alongside you and your family to help do just that and are of course here to talk anytime.
Below the charts and "fold" you'll find a great article from Brian Wesbury (one of the commentators/economists we trust most) on his outlook for the rest of 2022, as well a link to his thoughts on this week's invasion.
As always, we are here for you, and doing our best to earn and keep your trust.
Have a wonderful weekend and remember to pray for Ukraine,
Tim and the team at TEN Capital
Chart on Advisor Bearishness Levels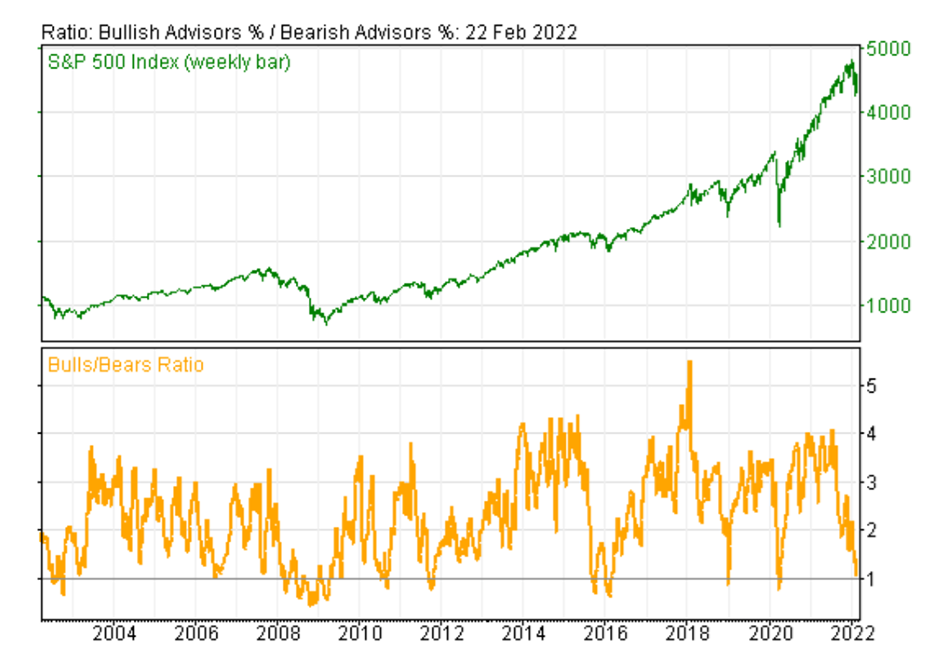 Chart on Retail Investor's Bearishness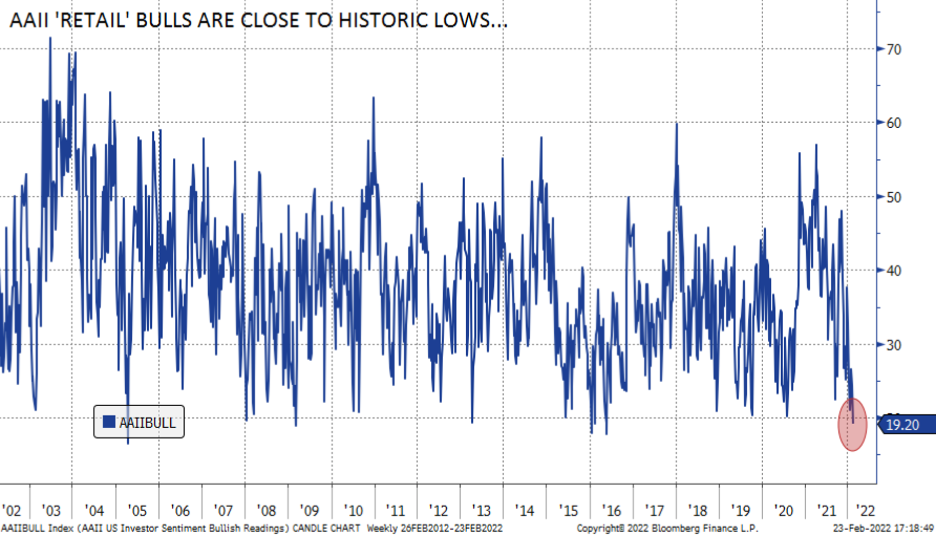 ______________________________________________________________________________
VIDEO: Wesbury - Initial Thoughts on Ukraine and the Markets
https://www.ftportfolios.com/Commentary/EconomicResearch/2022/2/24/initial-thoughts-on-ukraine-and-the-markets
ARTICLE: Wesbury - Sticking to Our Targets, For Now


Brian S. Wesbury, Chief Economist
Robert Stein, Deputy Chief Economist
Date: 2/22/2022

Late last year we unveiled our stock market forecast for 2022, projecting the S&P 500 would rise to 5,250 and the Dow Jones Industrials average would climb to 40,000. Since then, however, equities have dropped, with (now realized) fears about Russia invading Ukraine and the recognition that inflation is a more persistent problem than the Federal Reserve had previously let on, which means some combination of faster rate hikes or a higher ultimate peak for short-term interest rates, or both.

Reaching our year-end equity targets would now take a steeper climb than we previously thought: 20.7% for the S&P 500 and 17.4% for the DJIA, from Friday's close. But we still like those targets and don't see enough reason to change them.

As we wrote last week, Russia would likely invade Ukraine by soon after the Olympics ended, but that such an invasion is unlikely to change the long-term outlook for corporate profits. As a result, any drop in equities would end up being a buying opportunity.

Sure, the Biden Administration might try to exert pressure on Russia through economic and financial sanctions. But other countries, like China and Germany, have strong interests in continuing to exchange freely with Russia. Ultimately, right or wrong, we think the Biden Administration is more concerned about managing its image involving the Russia-Ukraine conflict, for purposes of domestic politics (like, not "appearing weak"), than trying to alter the outcome of the conflict itself.

Meanwhile, and for the time being, inflation is likely to be equities' friend, not their foe. Companies with pricing power, commodities' companies, and materials' firms, in particular, should do well.

In addition, the message from our Capitalized Profits Model hasn't changed, at least not yet. The cap profits model takes the government's measure of profits from the GDP reports, discounted by the 10-year US Treasury note yield, to calculate fair value. Corporate profits for the third quarter were up 19.7% versus a year ago, up 21.2% versus the pre-COVID peak at the end of 2019, and at a record high.

The key question then becomes what discount rate should we use? If we use 1.90%, roughly the current 10-year Treasury yield, our model suggests the S&P 500 is still grossly undervalued. But, with the Fed about to embark on a series of rate hikes and inflation likely to keep running relatively hot, the 10-year yield is likely to keep rising, although with fits and starts.

So, to be cautious, we plug in some alternative higher long-term interest rates. Using third quarter profits, it would take a 10-year yield of about 3.00% for our model to show that the stock market is currently trading at fair value. And that assumes no further growth in profits. With a 10-year yield of 2.50% all it would take is profits 3% above the level in Q3 for our model to estimate fair value at 5,250, which is what we projected for the end of 2022.

The bottom line is that the winds of change are blowing hard in 2022: COVID is winding down, borders are in flux, and monetary policy is in for a major and long-overdue shift. In spite of these changes, we think equities are likely to rebound from recent strife and work their way higher this year. The bull market in stocks won't last forever. But, for now, it isn't at an end.