A Note on Optimism
Investors often confuse the inevitably of a recession with the need to be constantly worried about one. We share some facts around recessions, as well as steps to survive them.
FIVE THINGS YOU SHOULD KNOW
Equity Markets – were higher this week with U.S. stocks (S&P 500) up 6.57% while international stocks (EAFE) rose 3.93%


Fixed Income Markets – were higher with investment grade bonds (AGG) up 0.93% while high yield bonds (JNK) rose 4.86%.


Federal Reserve Revision – the United States central bank increased their forecast for its preferred inflation gauge (the personal consumption expenditure index) to 4.3% for the current year, with an expectation of decelerating to 2.5% in 2023. Many members of the committee were quick to note that they still aren't worried about economic growth and believes it should, "advance at a solid pace over the remainder of the year".

US/China Tensions Rise – President Biden sparked concerns from China this week when he stated that the United States military would intervene to defend Taiwan from a potential Chinese takeover. Although White House officials were quick to walk back those comments, many Chinese officials are worried the United States is set to break its long-standing approach of "strategic ambiguity" regarding China/Taiwan relations. News also broke later this week that the US and Taiwan will begin talks to deepen their economic ties and better facilitate trade.


Key Insight – [VIDEO] Investors often confuse the inevitably of a recession with the need to be constantly worried about one. We share some facts around recessions, as well as steps to survive them. [ARTICLE] Dave shares a needed message on remaining optimistic during a tough market cycle and provides actionable items investors can deploy to keep from making panicked portfolio decisions.


INSIGHTS for INVESTORS
"You make most of your money during bear markets, you just don't realize it at the time" – Shelby C. Davis
A Note on Optimism
Dave Gordon
As I write this, the U.S. stock market is off the most since the COVID bottom, the fear index watched by many on Wall Street is currently "extremely high", and it just seems the market's current momentum is down. I've been doing this long enough to begin to feel client temperament, questions, and just an all-around feeling of "this time feels different" is now upon us.
Right now, investing feels somewhat akin to broken, and no idea how one can make money in such a scenario. It's defeating, it's unconformable, and quite frankly it's understandable to feel helpless.
It's very easy to understand you want to stop the bleeding, rid yourself the anxiety of not knowing what the future holds; and simply sell your holdings. I've already heard a few of you loud and clear asking, "why don't we just sell and sit this one out – we can wait for the all-clear to re-engage". To that I say:
"Hurry up and do nothing" – Charlie Munger
This doesn't mean we don't potentially harvest losses for some of you, or buy down into more punished asset classes, or God help us add money at these depressed prices. But what Mr. Munger is so eloquently stating is the obvious – markets are efficient over time and will inevitably rebound to the pre-2022 levels and continue to rise and meet their long-term averages – we just don't know when that will occur. Time and time again the data shows us nobody can predict when the "all clear" signal rings and liquidity piles back into the stock market. And to make matters even more difficult, the top 10 trading days over the last 20 years have been within a few weeks of the worst trading days. For example, for you to get the long-term averages in the market, you must take the good with the bad. By missing these top 10 trading days, you cut your 20-year average return almost in half.
Let me be so bold and repeat myself – if you've missed the top 10 trading days in the last 20 years, your average return has been almost cut in half compared what the index has done. Feel free to reference the chart below: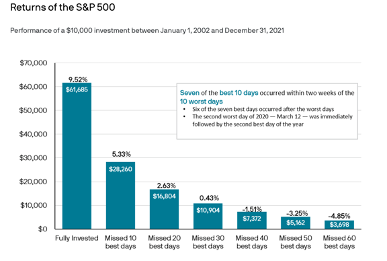 So, what is the disciplined long-term investor to do? I'd be willing to offer up 3 key things you can control:
Build a plan that focuses on your values set. Give meaning to the numbers we are always analyzing, and I'd bet you'd feel a little more engaged and willing to attack your long-term plan with the mental fortitude needed to stay the course.

Be optimistic – at the end of the day if you slice all the historical data as many ways as you like, the only rational opinion on the markets over the long run is OPTIMISM. Markets are efficient and go up over time. Full stop.

Partner with someone that values what your needs are and wants to see you succeed. Maybe even someone that can help you see the opportunities of tomorrow and will sit side by side as you patiently await the next inevitable bull market. It's in these rough times that having accountability is so important so as not to convert volatility (the day-to-day swings in asset prices) in to risk within your investment plan (permanent impairment of capital) or making "The Big Mistake" and selling out of your investment portfolio at the wrong time…like right now.
I will conclude by using one of Abraham Lincoln's favorite sayings – "This too shall pass". It just may not feel like it in the midst of a market correction.
In the meantime, I'll look forward to enjoying that mean reversion to the upside when it inevitably occurs. I'll just be waiting here patiently, and I'd invite you to join me. There's always room for one more.
To Your Health and Living Richly,
Dave and the team at TEN